I work from 9 to 9 every day, and only the morning time belongs to me. As a senior runner, I can only complete my daily running during this time. After all, I still have a dream of running a marathon. But many people are questioning whether the air quality in the morning is good for running. After reading a lot of popular science knowledge, it seems that the biggest factor hindering early morning running is the air quality, which prompted me to buy a treadmill to train at home. You can also check kingsmith r2 vs x21 here.
Due to the limited space in the room, the place where the treadmill can be placed at home is also very small. After searching about many treadmills on the net, I found that each of them takes up a lot of space. Just when I was about to give up the idea of ​​running at home, I accidentally discovered Kingsmith Walkingpad R2 and its slim and compact shape really made my eyes shine. Compared with other treadmills, it really saves space.
Although it is slim and compact, its own performance has not been reduced at all. The maximum speed is 10 km/h, which is completely sufficient for my own pace. Moreover, it is equipped with a brand-new noise-reducing brushless motor, which is lower than 60 decibels when idling, dispelling the worries of noisy neighbors downstairs.
The space at home is very cramped, and the biggest reason why I chose the Kingsmith Walkingpad R2 is that it can be folded in half and placed upright, which solved my space worries at once. After running training every morning, fold up the treadmill and stuff it into the gap next to the refrigerator, making full use of some unused small spaces and saving a lot of family space.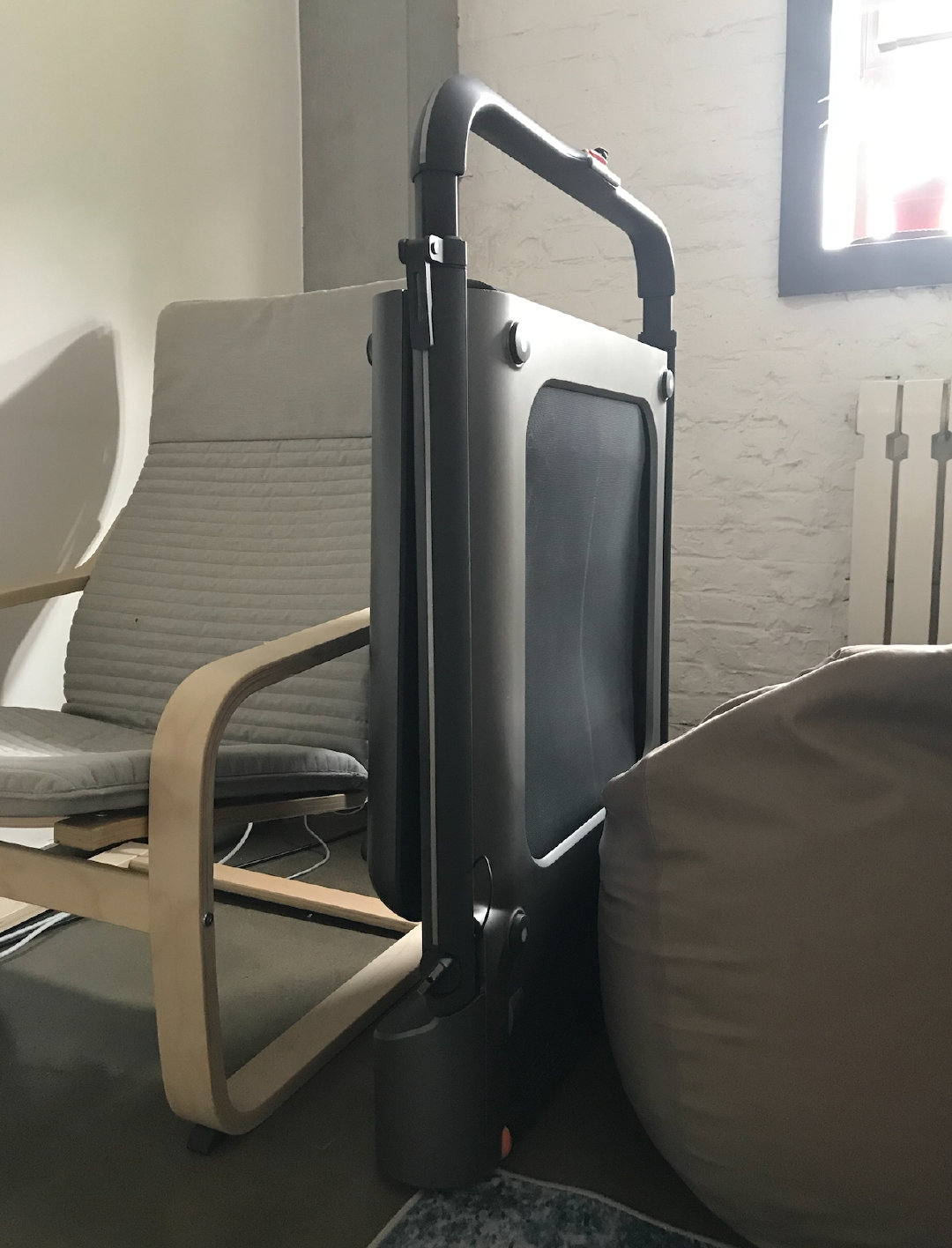 Although I have been running for two or three years, most of them run at a constant speed. After buying the Kingsmith Walkingpad, I found that I can connect to the KS Fit App, and the app will provide a running plan for me. The tricks are different, such as running at a constant speed, intermittent running, 5kpb sprint, etc., and running out of tricks every day, and my physical fitness is also gradually improving.
Although buying a treadmill is just a tool, for me, it is a friend who will accompany me almost every day. The most important thing is that this friend will never lose the chain, and will always support me every time I run, when I don't need it, will change into another form and hide in the corner of the house, without adding any trouble to me.
If a friend needs a treadmill, I will definitely recommend buying a Kingsmith Walkingpad R2, a smaller, thinner, and space-saving treadmill. But there is bad news, that is, I bought it too expensive. Now it seems that this Walkingpad of Kingsmith is in the pre-sale on Double Eleven, which is hundreds of dollars cheaper than when I bought it.
Read Also: Top 4 High-Performance Smartphones Choosing In 2023
Do not forget to follow us on our Facebook group and page to keep you always aware of the latest advances, News, Updates, review, and giveaway on smartphones, tablets, gadgets, and more from the technology world of the future.