MJX Bugs 5W is amazing for experienced pilots with its advanced Brushless Motors. Built-in 1080P WiFi Camera, and 2.4GHz Two-Way Communication technology, it means the flight will be more powerful and reliable, the image quality will be more excellent, and the control range is up to 300-500m.
MJX Bugs 5W Drone comes with Brushless Motor to ensure low friction during engine operation and reduce heat production. 2.4GHZ Two-way Communication remote control to enhance distance control of the transmitter to 200-300 meters for the ultimate flying experience. Its High Capacity Battery makes the Fly time up to about 15 minutes on a single charge with the included 1800mAh battery. 6-axis gyro fly system provides a more sensitive of gyro's regulating, more stable and flexible flight.
MJX Bugs 5W Drone is equipped with a single shaft mechanical gimbal, which can reduce vibration and keep the intakes stable. In addition, you can adjust the angle of the camera by remote control. The wide-angle lens r makes it possible for the camera to capture vivid and vivid images with expansive backgrounds. MJX Bugs 5W Drone Support to shoot 1080 at 30 fps thanks to the 8-megapixel CMOS sensor and wide-angle lens, capturing the details with great angulation and beauty. Transmission of images in real time with zero latency at 1080P and FPV distance of 200-300 meters.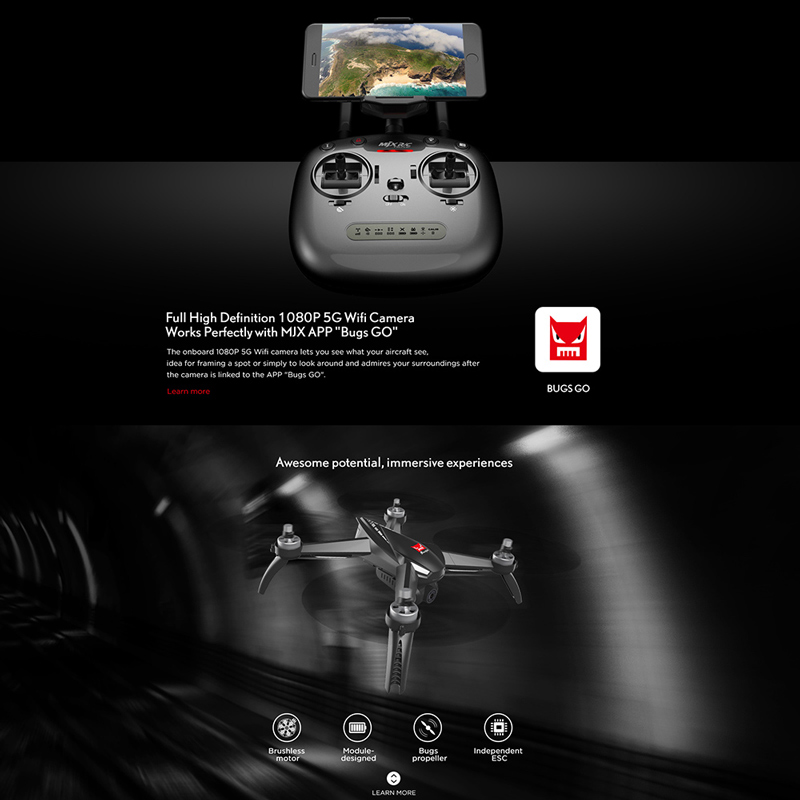 MJX Bugs 5W Drone comes with the attractive headless mode, completely solving pilot loss-of-orientation problems. GPS positioning and altitude hold function offer worry-free stable flight. One-key taking off/landing makes the operation more convenient and it is very suitable for novice operation.
MJX Bugs 5W Drone comes with the point of interest function, your aircraft will continuously circle clockwise around the preset point. When using Follow Me function, the aircraft's camera will lock on your mobile phone, tracking you automatically and capture your movement with a particular aerial view.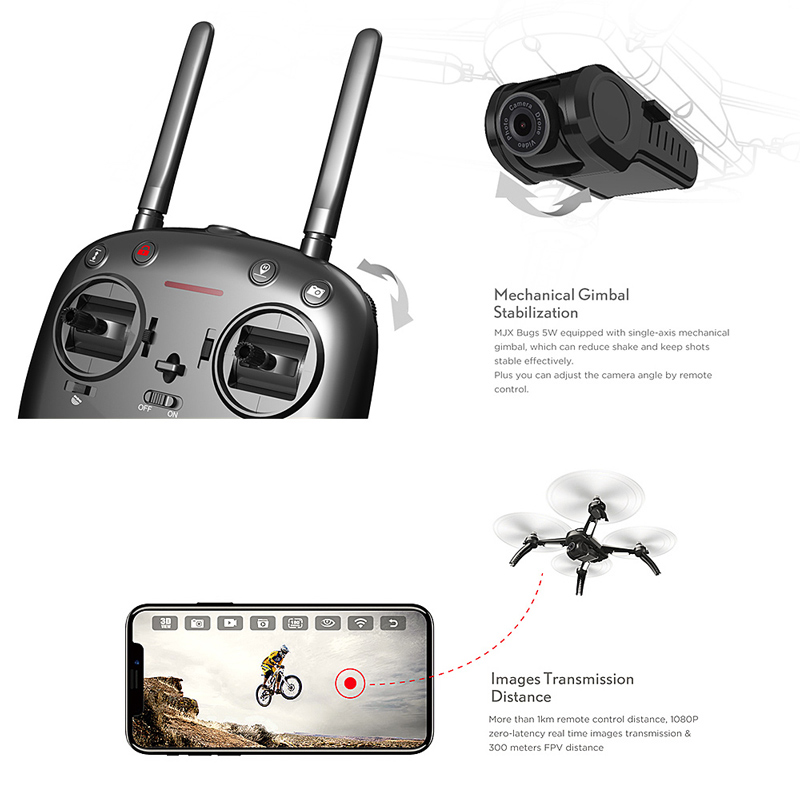 Each motor is managed individually by the Electronic Speed Controllers. And the innovative auto-braking system is mounted on the ESCs.Can protect the motors and safety of flight. Once the drone is in low voltage or the remote control signal is weak or interference, the drone will send out beep sound. Your flight is always safe. The bright LED lights made night flying as easy as flying in the day. Your Bugs 5W looks cool and attractive.
MJX Bugs 5W Drone! A super cool drone which is exactly the beginner drone that you need. With the special appearance, you will love it at the first sight. This version includes 1080P 5G Wifi HD camera, giving you impressive photographing experience from the sky! we can buy it from TOMTOP at $144 by using this Coupon Code: HY55MJXJ.
For more discounts, please check its 11.11 festival.