This SUBOTECH CoCo-4WD BG1510B is a super powerful buggy cross-country truck and favored by most RC fans, which can run on the road, desert, rocks, grass and muddy roads, even the hills. Its super long suspension travel and soft spring feature great performance in crawling and climbing. The car has all the features you are looking for, and it will bring you much excitement and challenge. It is now available completely ready to run. Just fuel up and go enjoying the fun!
Design
SUBOTECH CoCo-4WD BG1510B RC Racing Car Off-road Vehicle has the simple and aesthetic design of the transmitter it is possible to quickly and easily access all the functions of the vehicle. This provides convenient and precise guidance for increased driving pleasure. The range of the transmitter is up to 50m. The color of the transmitter has been selected to emphasize its sporty character and offered vehicle speed. allowing for speeds up to 40km / h. Typically, the metal transmission shaft replaces the previous plastic, larger engine, and is equipped with active heat sinks with a fan instead of heat dissipation through conventional metal, some of which are also replaced with metal. to meet the high speed of moving. Newest 1/26 full-scale waterproof RC high speed replace the receiver/ESC motor and battery, then the speed could reach up to 60km/h. Ready to run and no assembly needed. With high-quality rubber wheel, anti-skid, perfect experience. Best choice for adult-kids toys.
Features
It is equipped with the top-class differential devices including high, medium, and slow speed, the high-speed with a more stable and durable operation can be used in all-terrain races. SUBOTECH CoCo-4WD BG1510B RC Racing Car is perfectly Adopt receiver/ESC motor and battery, providing high power and speed up to 40km/h, it is specially made Four-wheel independent suspension system suitable for various racing games. This monster has their own radio control system which is wirelessly remote control with 2.4GHz, 2.4G technology supporting high-speed cars racing simultaneously, a range of remote control of about 50 meters, transmitter power of this crawler car is 3 * AA battery, built-in rechargeable battery with racing time about 8-10mins. The battery of this car is 7.4V 650mAh Li-Po battery. it has also less weight of 227g (battery included) with the size of (L x W x H): 191 * 146 * 85mm (artificial measurements error allowed). This crawler car has high-temperature protection for the desert.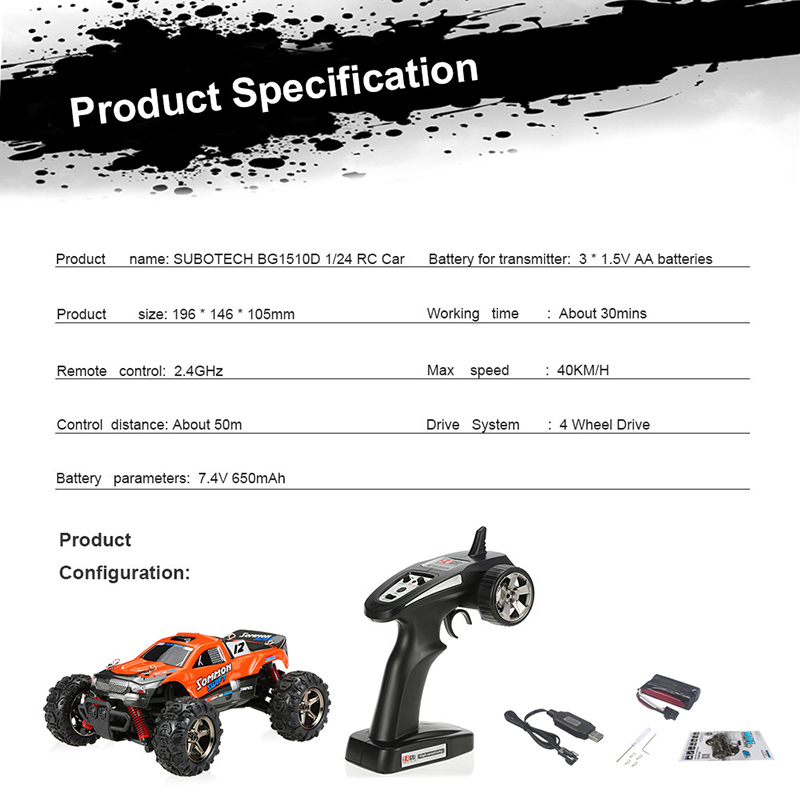 Conclusion
SUBOTECH CoCo-4WD BG1510B RC Racing Car is an incredible gift for your Kids, your youngsters will find it irresistible very a great deal, bring together your personal toy. it may be very thrilling, difficult to children's thoughts if it's miles fixed randomly, Stimulates youngsters' mind improvement. grab you a superb toy for your youngsters on RCMoment Just at $47.99 with using Coupon Code: COCO4, So, are you seeking out a nice RC Toy for your self or a pal? do not hesitate and take it first.