Tronsmart is my favorite company when it comes to audio. I think of myself as lucky to have reviewed most of their speakers and earphones, cause they make the best in this category. The wireless earphones that I use are from Tronsmart and Geekbuying, the Tronsmart Spunky Beat and I have them for about a year. This shows how good products they make, how much they last and are of the best quality. So don't expect to say something different and for the latest speaker that I got from Tronsmart and Geekbuying, the Tronsmart T6 Pro!
The Tronsmart T6 Pro came to me from their CZ warehouse, where you can also get it, using the coupon that I will give you, for less than 55$ and with no customs problem. The box is rather heavy, as all spekers from Tronsmart are, taking under consideration that weights 870g. The dimensions of the speaker are 83*230 mm. Opening the package you will find inside the speakers of course, the Type-C charging cable, a 3.5mm audio cable, a Warranty card and the User manual.
The Tronsmart T6 Pro come in black as you see in the photos. It connects with your mobile or device throught Bluetooth 5.0 and stays connected for a distance up to 18m. It has a bluetooth compatibility with A2DP V1.3, ACRCP V1.4 and HFP V1.6. The speaker has a built-in battery up to 10400mAh, that can help you charge tyour mobile if you choose to use the speaker as a powerbank! If you want only to listen to music, you can have playtime up to 24 hours and talk time up to 20 hours. After that you will need about 3-4 hours to fully charge the battery. The speakers have a standy time of 2 years!!! The speakers are made of ABS aluminum and are water resistant featuring IPX6.
The speakers work with a frequency range of 20Hz – 16000Hz. The spekaer have a 45W output as I have told you, featuring 57mm large driver. Trosmart is using the SoundPulse technology, a patented feature that boosts the sound in all its devices! The speakers works as TWS and they have a blue light when they work. They have 3 playing modes that you can change from the big M button on the speakers.
The speakers come with a thick cord to hold them from there. The various ports are well protected under silicone, so water not to affect them. It has a TF card port, a USB-A port, a 3.5mm audio jack port and the Type-C port. The battery last for 24 hours playtime or 500 songs to listen to if you like these numbers!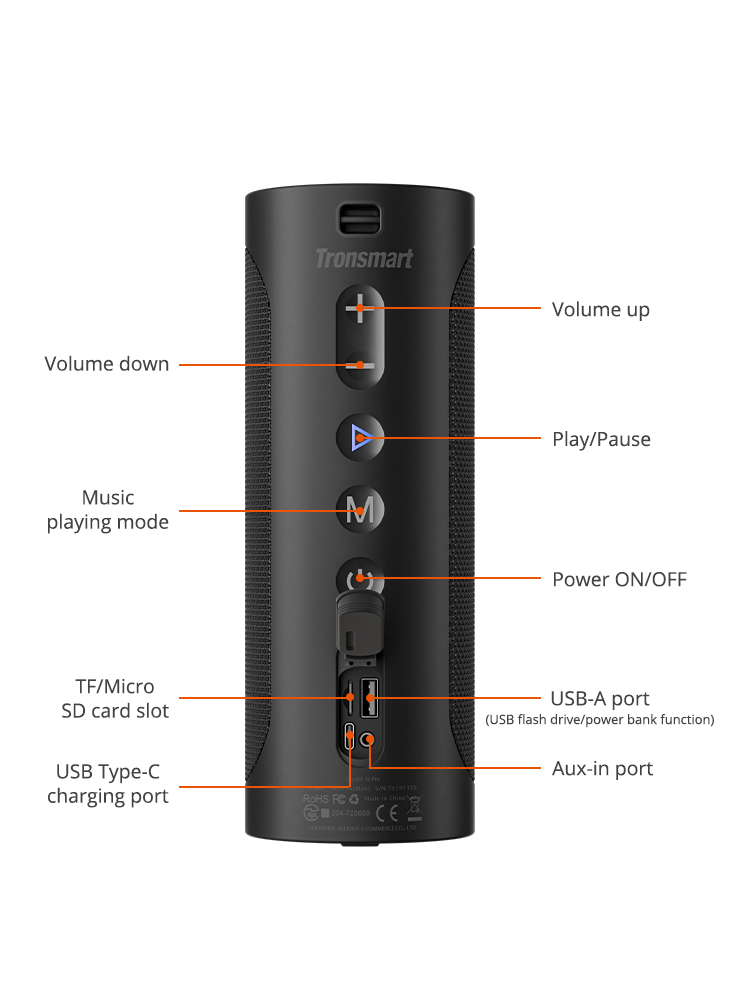 Check the video review I have prepared for you and don't forget to Like, Share and Subscribe to our YouTube Channel
You can get the amazing Tronsmart T6 Pro Speakers from the CZ warehouse of Geekbuying, for 54.83$ by using the coupon GKBTSCZ2 !
Do not forget to follow us on our Facebook Group and Page to keep you always aware of the latest advances, News, Updates, review, and giveaway on smartphones, tablets, gadgets and more from the technology world of the future.