Design and build
The P40 Pro, as Huawei likes to say, was designed by two principles – simplicity and minimalism. Well, we can say that for plenty of glass-sandwich flagships, but we'd give the maker that the back is indeed reminiscent of the flat point-and-shoot cameras from another era. That is, if you are old enough to remember those.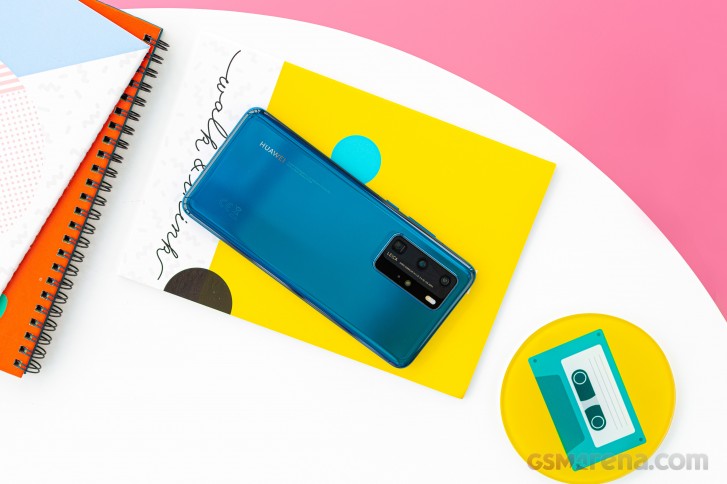 The first thing we did notice about the new P40 Pro is the curved screen and the wave-shaped aluminum frame. Huawei calls this an overflow display as it is curved at all sides and it just flows into the frame.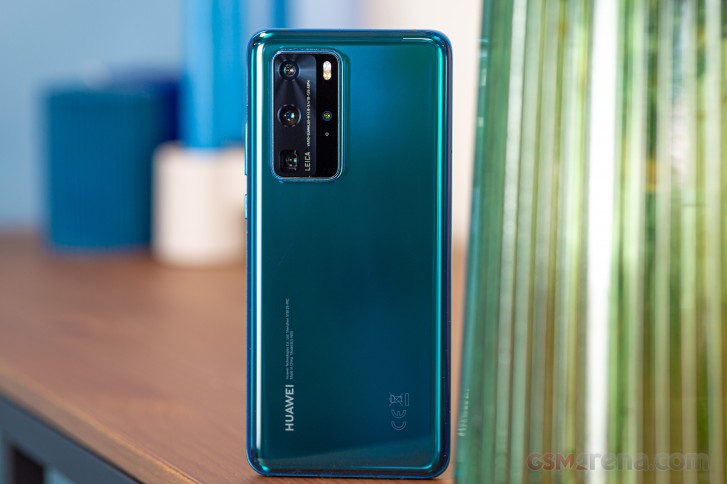 Indeed, as you can see, the frame is gets thinner around the sides leaving space for the screen curves, but it rises like a wave at the corners, probably for enhanced durability in addition to the cool look.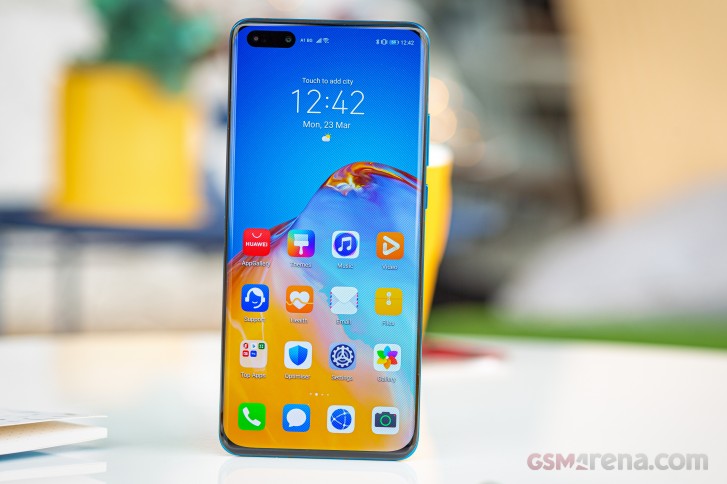 The P40 Pro is a great example of Huawei's craftsmanship – the maker has an excellent track record in making beautiful smartphones with attention to detail and we expected nothing less for its 2020 flagship series. The new flagship is water-proofed (IP68-rated), its quad-curved screen is indeed an eye-grabber, and wavy frame easily wins some points for looks, while the back has not only the new Leica camera but some great paintjobs as well.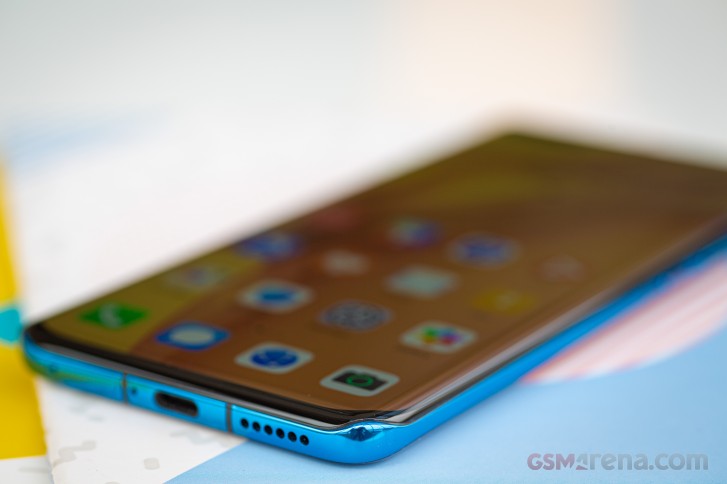 The P40 Pro is available in Deep Sea Blue as ours (or Ink Blue), Black, and Ice White. These three models feature the usual glossy finish. But Huawei will also be selling the P40 Pro in Silver Frost and Blush Gold (or Apricot Gold) done in the trendy matt finish.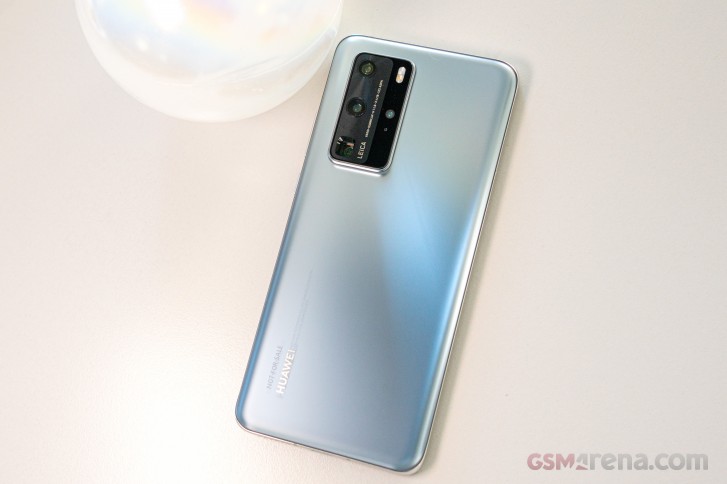 The front is all about the screen – it's an edge-to-edge panel that wraps around all four sides, but its curves aren't as sharp as they were on the Mate 30 Pro and we like them here better. The display is a new generation OLED with high-resolution (1,200 x 2,640) and 90Hz refresh rate. Obviously, it's not 1440p or 120Hz, but you don't need to lower the resolution to achieve high refresh rate, so we'd take it.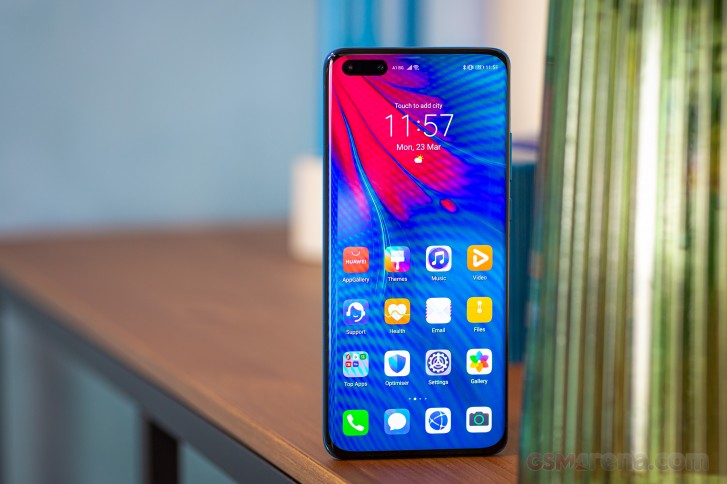 The notch is one big black blob, but the elliptical shape does help. It contains the new 32MP selfie camera with autofocus, a ToF camera, the IR flood illuminator, and the ambient light sensor. There is no notification LED on the P40 Pro, but you can enable Always-on screen of you are okay with the battery drain.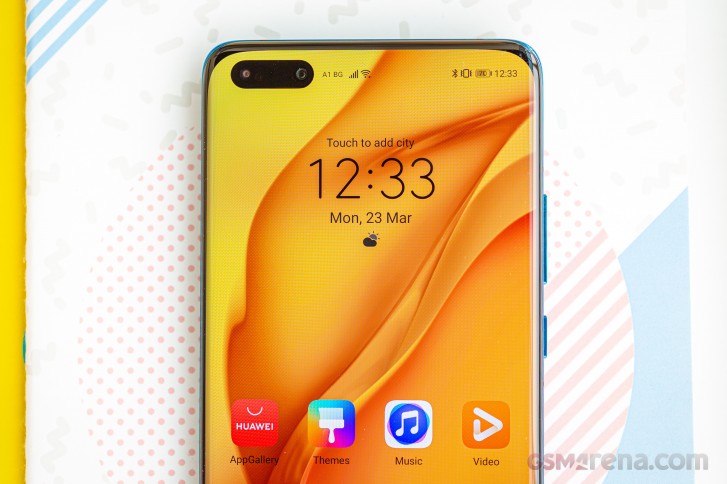 One thing you won't see anywhere on the P40 Pro is an earpiece. Just like the P30 Pro and Mate 30 Pro, the P40 Pro vibrates its screen to produce sound in voice calls and that's great. But this feature can't be used as a replacement for an actual speaker, so the P40 Pro has one speaker only and it's at the bottom.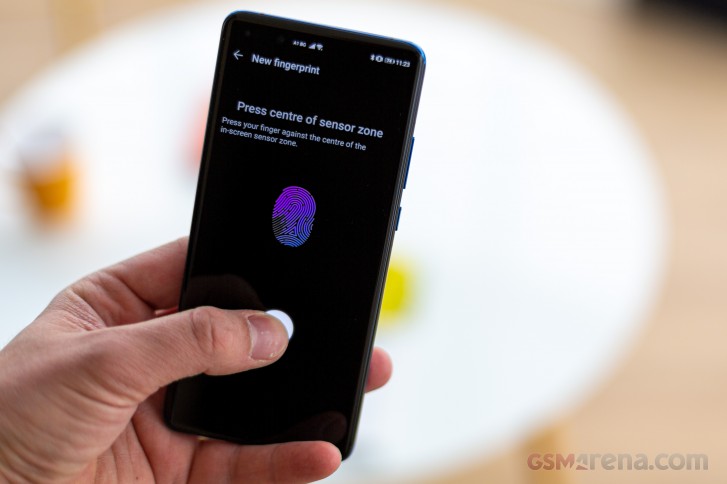 One more thing is at the front, invisible to the naked eye – the optical fingerprint scanner. It's seen improvement since the P30 Pro – Huawei has increased its size and speed by 30%. We used it for a couple of days and indeed it is as fast as the best in the genre – the one we've seen on the Realme X50 Pro and OnePlus 7T. The area lights up on touch and the reader is as speedy as the conventional ones on other Huawei phones.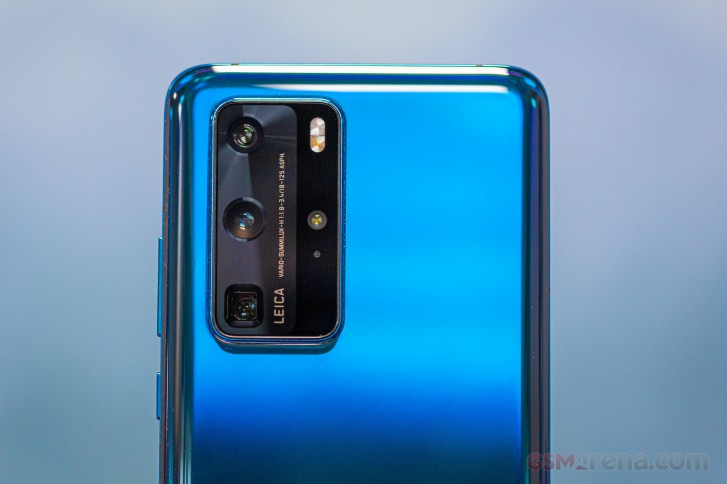 The back is where the camera magic happens. Huawei is proud how it has designed the camera hump – it has no sharp edges but instead rises from the back in a volcano-esque fashion. The transition is smooth, and we like it, though it still humps and makes the phone wobble.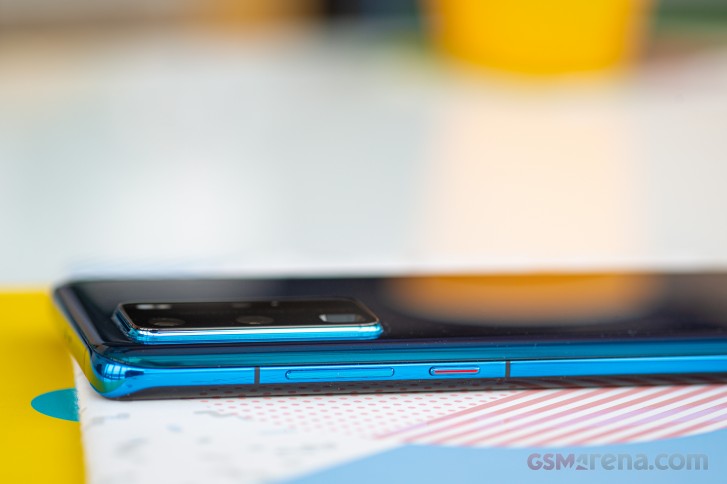 On this black plate you will find the 50MP primary camera, the 40MP ultrawide shooter, and you can see the end of the periscopic lens on top of the hidden 12MP sensor. Around are also a ToF camera, an IR sensor, a multi-spectrum color temperature sensor, a mic for video capturing and its audio zoom feature, and the dual-tone LED flash.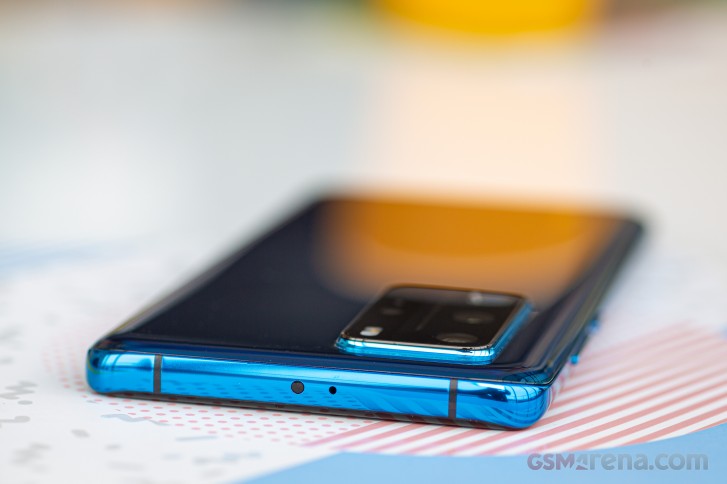 We mentioned the cool frame a couple of times, but let's see what's around. On top you'd find another mic used for video capturing and for noise cancelling, and the IR blaster. The left side has nothing, while the volume rocker and the power key are on the right.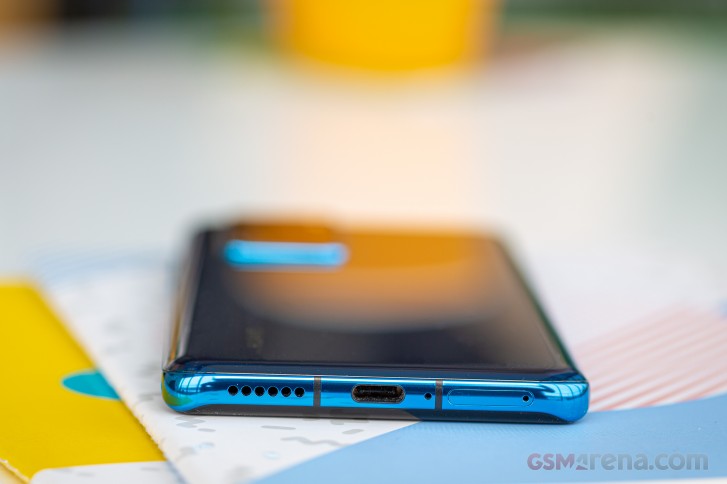 The bottom is where you'd find the speaker, the mouthpiece (and also the third mic for video recording), the USB-C port, and the hybrid SIM tray.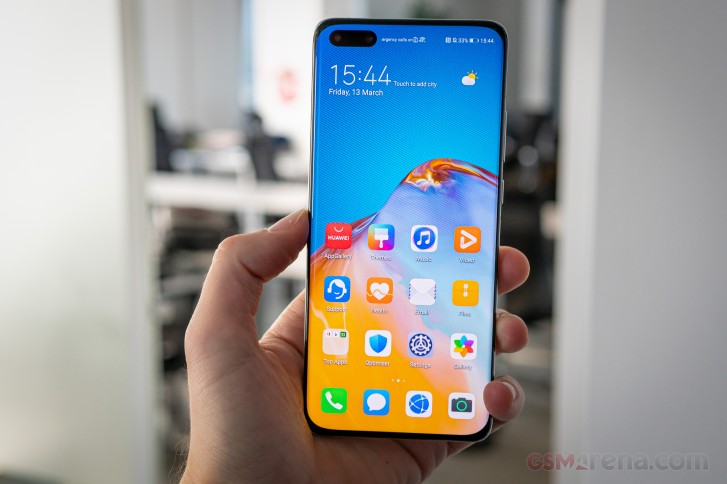 Handling the Huawei P40 Pro is as premium experience as it can get. We liked both the glossy and matte models, though the sandblasted-like panel provides for somewhat better grip and it is a nice change from the widespread glossy back.
Thanks to all those curves the P40 Pro feels much thinner and compact and it was easy to operate and carry around in a jeans pocket. If you are going to shoot a lot, and you should, you may want to use a case though – it's an expensive piece of tech and some extra peace of mind won't hurt.
A curved 90Hz OLED display, gigantic notch
The high refresh rate train is now at full steam and Huawei is jumping on the bandwagon with the P40 Pro. The smartphone features maker's first 90Hz OLED panel, though the good news doesn't stop with the refresh rate – the screen is also of high resolution and has all the trendy curves.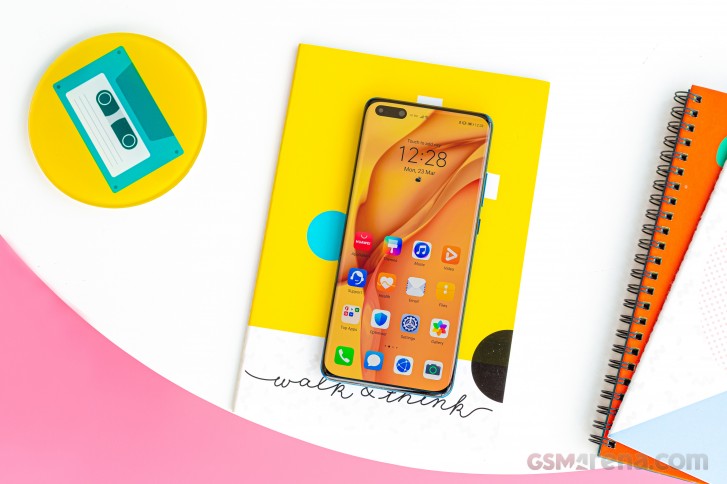 So, the panel has an actual resolution of 1,200 x 2,640 pixels that make for 441ppi and 19.8:9 aspect ratio. The OLED wraps halfway around all sides of the P40 Pro, meaning it's even curvier than previous Huawei displays.
The cutout is quite large as it houses the selfie camera, the ToF sensor and the IR flood illuminator, and the ambient light sensor is around, too. Its elliptical shape helps lower the impact on the eyes, but the left corner of the display still remains largely unusable.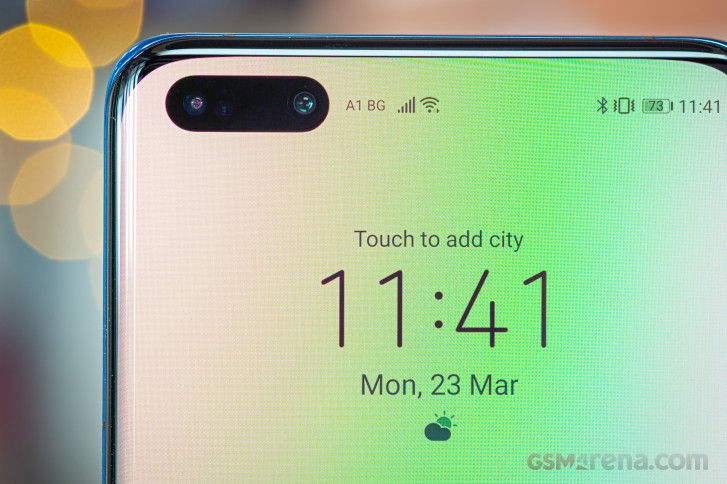 We measured a maximum brightness of 425 nits when adjusting the slider manually, which in line with most of the Samsung OLEDs but is lower than what you could get on a Mate 20 Pro and a P30 Pro. With Auto enabled, unfortunately, the P40 Pro is lighting up to 495 nits – not that much of an improvement.
The minimum brightness we captured on the P40 Pro screen was mere 1.8 nits – an excellent one.
Display test
100% brightness
Black,cd/m2
White,cd/m2
Contrast ratio
Huawei P40 Pro
0
425
∞
Huawei P40 Pro (Max Auto)
0
495
∞
Huawei P30 Pro
0
571
∞
Huawei P30 Pro (Max Auto)
0
605
∞
Huawei Mate 30 Pro
0
464
∞
Huawei Mate 30 Pro (Max Auto)
0.028
683
24393:1
Huawei Mate 20 Pro
0.002
508
254000:1
Huawei Mate 20 Pro (Max Auto)
0.003
657
219000:1
Samsung Galaxy S20 Ultra 5G
0
398
∞
Samsung Galaxy S20 Ultra 5G (Max Auto)
0
894
∞
Samsung Galaxy S20
0
397
∞
Samsung Galaxy S20 (Max Auto)
0
814
∞
Apple iPhone 11 Pro Max
0
820
∞
Oppo Find X2 Pro
0
536
∞
Oppo Find X2 Pro (Max Auto)
0
871
∞
Oppo Reno 10x zoom
0
440
∞
Sony Xperia 1
0
391
∞
Sony Xperia 1 (Max Auto)
0
665
∞
Now let's talk color accuracy. There are two Display options – Vivid and Normal, each representing a different color space – DCI-P3 and sRGB respectively. Each of these settings offers further color saturation fine tuning.
The default screen mode is Vivid and at its default saturation state the display has a very good color accuracy to DCI-P3 with an average deltaE of 3.6 and maximum deviation of 6.6. If you switch to Normal (sRGB) mode, you will get a perfect calibration with an average deltaE of 1.9.
The P40 Pro's display supports HDR10+. It is not listed on the Netflix supported devices page for HDR10, however, and the reasons is that the phone supports the basic Widevine L3 level meaning it can play only SD content on Netflix and Amazon Prime apps. HBO Go won't run without Google Play Service, so it's a no-go.
Battery life
The Huawei P40 Pro packs a 4,200 mAh Li-Po battery – same as P30 Pro's. It supports Huawei's 40W SuperCharge and the phone is bundled with the said charger. Quite expectedly it does a splendid job – in 30 minutes it will refill 80% of the P40 Pro's empty battery, while a full charge is achieved in 50 minutes.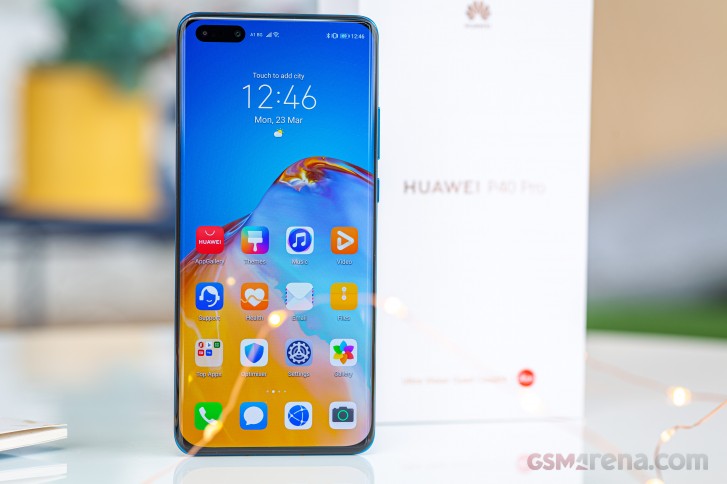 Huawei P40 Pro supports smart battery charging – if you hook the P40 for an overnight charge, it will eventually lower the speed and complete the full charge just before sunrise.
The P40 Pro also supports 27W wireless charging, and even reverse wireless charging. After activating the reverse charging from the battery options, you can charge your smartwatch or wireless earbuds off the phone. Or even another phone, if that's your thing.
We've completed our battery tests and the results are quite good. The phone can last north of 15 hours on web surfing, or more than 18 hours on playing videos. These battery times are identical on 60Hz and 90Hz refresh rates, so you don't have to worry about the energy drainage.
The 3G talk time isn't spectacular, and nor is the standby performance – and these led to a bit lower than expected, but still great endurance rating of 94 hours.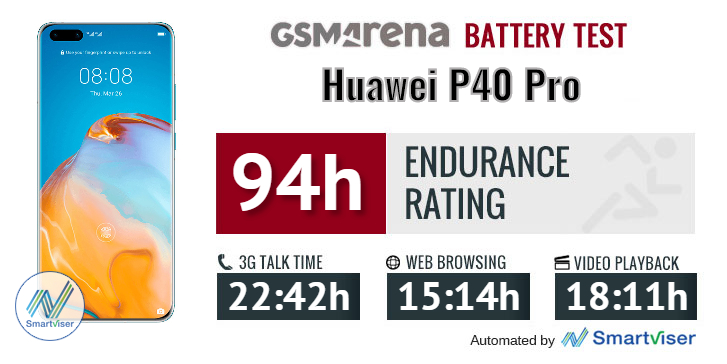 Speaker
The Huawei P40 Pro has a single loudspeaker firing down from the bottom, and it posted a 'Good' result for loudness in our seven-track music test. It lacks a low-frequency thump, but the mids and highs are well represented. Our tool allows for comparing the sound output to any other phone we've tested so far.
EMUI 10.1 on top of Google-less Android 10
The Huawei P40 Pro boots the EMUI 10.1. It's the latest version of Huawei's skin and it's based on Android 10. It has no Google services and as no access to the Play Store, but we guess that's old news already. Huawei does offer its new proprietary Mobile Services complete with Huawei's AppGallery. More options are available, but we'll talk about those in a bit.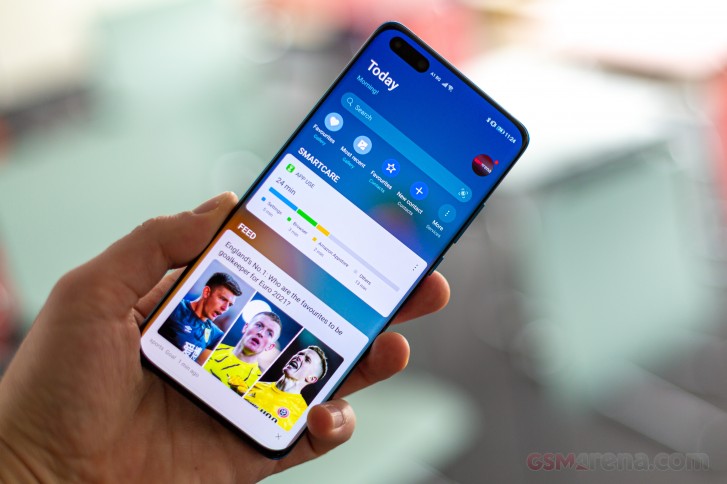 Let's start with how you unlock the Huawei P40 Pro. Both fingerprint and 3D Face Unlock are available and both can work side by side – whichever happens first. The optical fingerprint sensor is the fastest currently available and it's on par with the conventional scanners – it lights up with a white light the moment you touch it, and before you know it, you are on the homescreen.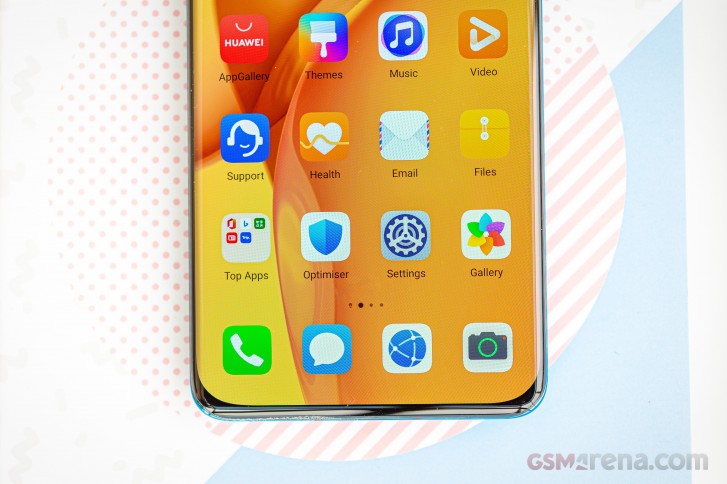 Thanks to the front ToF camera, secure (read 3D scan) Face Unlock is available a.k.a. Apple's Face ID. It works even in the dark and is often faster than the fingerprint reader as it scans and recognizes your face before you even touch the screen.
By the way, you can use Always-on screen and you can choose from a lot of different clock skins. This will drain your battery faster though.
Like all EMUI-driven devices, you can set up a magazine lockscreen style that changes the picture every time you wake up the screen. Sliding from the bottom will bring out quick shortcuts to some commonly used utilities.
On the homescreen, you will find all of the installed and system apps, but there's a toggle in the settings menu that lets you choose between the standard layout or a homescreen with an app drawer. It's a personal preference, and it's good to be able to choose.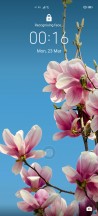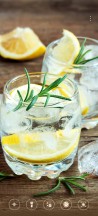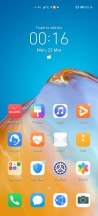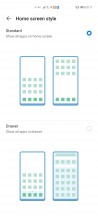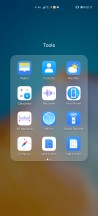 Lockscreen • Tools • Homescreen • Homescreen style • Some apps
There is a replacement for the Google Feed in this version of EMUI, and it's called Today. On this leftmost page, you will find a Search field, shortcuts to favorite contacts, photos, etc, Smart Care graphic (which is their analog of Google's Digital Wellbeing) and a News Feed filled with local news through a service provided from Huawei.
The homescreens are business as usual, and you can populate them with apps, folders, and widgets.
You can either embrace the notch, as usual, or you can mask it with a black status bar. It's quite the sizeable notch though and the top black bar may become an even bigger eyesore. We'd like to suggest switching to Dark Mode – it looks great on this OLED screen and the notch melts into everything.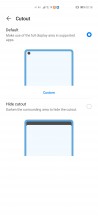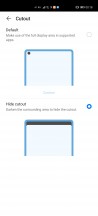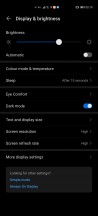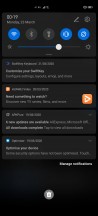 Embrace the notch • Hide the notch • Dark mode • Dark mode
The notification shade in EMUI 10 is the most heavily redesigned UI element with the toggles now adopting a more conventional circular shape and a blue color for the On state, very much like on Samsung's One UI and sort of like Google's own Android 10 design. There's a brightness slider and a row of toggles upon the first pull, and you pull down again for more toggles.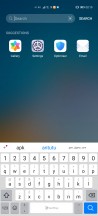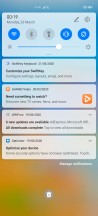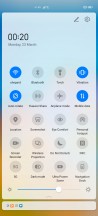 App/contacts search • Notification shade
Multitasking is a familiar affair, and the task switcher allows for split-screen or pop-up mode. Most of the default apps support pop-up view, but only few can get into split-screen and we found that odd.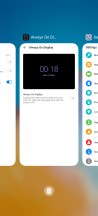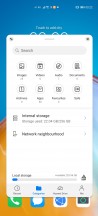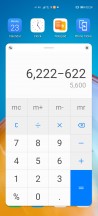 Recent apps • Pop-up view • Pop-up view
The P40 Pro default OS navigation is an iPhone-like gesture – swipe up for Home, swipe up and stop midway for Task switcher, or swipe from the left or right edge of the screen for Back. You can opt for the classic virtual buttons, of course.
From the phone manager app, which is now called Optimiser, you can access shortcuts to storage cleanup, battery settings, blocked numbers, Virus scan powered by Avast, and mobile data usage.
Huawei's Music app offers a way to listen to stored MP3s, and it also includes Huawei's own music services in compatible regions.
Same goes for the proprietary Video app – it plays your local videos, but it also includes Huawei's video streaming service similar to YouTube. Huawei has partnered with BBC to deliver more interesting content in addition to all funny and creative videos you will find within Huawei's own streaming servers.
Huawei's Health app is pre-installed, and it offers step counting, among many other things. There's a file manager app and a note-taking app.
Huawei is yet to launch its TomTom-based Maps app, but here is hoping this happens soon enough. And since the P40 Pro lacks a replacement for Google's location framework, apps like Pokemon Go and Harry Potter: Wizards Unite can't work.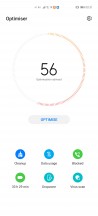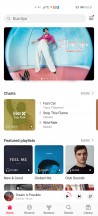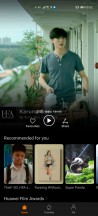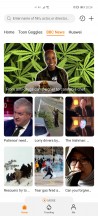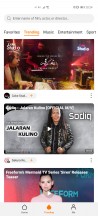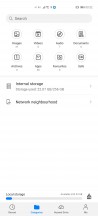 Optimiser • Music Player • Video • Video • Video • Files
The gallery is an entirely custom job, too, but it has the usual chronological and albums views plus an AI-powered highlights selection. As part of EMUI 10.1 is a new powerful image editor integrated within the gallery and it makes use of the additional information left out from the multi-stacking when shooting. You can remove reflections or even people, which are potentially running your shot. Just hit Edit on an image and if the AI didn't do that for you already, it can be done from the Gallery.
Few and far between phones these days, most of them Huawei's, have IR blasters, and so does the P40 Pro. Thanks to its Smart Remote companion app, you can control all of your legacy non-connected appliances with your phone.
Sound Booster is a new feature part of EMUI 10.1. It turns your phone into a remote mic and it streams the sound to your Bluetooth headphones or speaker (meaning you have to be in Bluetooth range). This could be great for babyphone purposes, as well as spying.
Huawei does not provide Google services pre-installed on the Huawei P40 Pro, as we mentioned a couple of times already, nor have they encouraged or assisted in the side loading of the Google Play Store by the users. You can sideload some of the Gapps like Maps, Gboard, and Chrome, but Gmail and Play Store won't work without Play Services, which you can't get to work easily.
As Google's stuff is gone Huawei is going to launch its own smart assistant called Celia in selected markets – UK, France, Spain, Chile, Mexico, and Columbia. It obviously supports three languages so far – UK English, French, and Spanish.
Celia's capabilities will be limited at launch – you can ask to dial a person or a number, or sent a text message. It can add calendar events, reminders, or run translation. Searching for multimedia within Huawei's default apps is also possible. It can tell you what the weather will be like, set an alarm, turn on/off the torch, or some popular setting like Wi-Fi. Celia will come with an OTA update and more features will be added with future updates.
Huawei has also partnered up with Qwant – one of EU's most popular search engine. And while currently Huawei's web browser and search tool are using Google or Bing, they will default at Qwant once the retail units of the P40 series ship.
A new service called MeeTime is coming to EMUI 10.1 via an OTA update later this year. It's basically a rival to Apple's FaceTime allowing you to make audio and video calls over the internet. It will also support screen sharing feature with markup support. Huawei also wants this service to expand beyond Huawei devices, so it will make it available to third-party developers post launch.
MeeTime was launched with the Mate 30 series in China six months ago and it already has 80+ million active users. Huawei is hopeful it will gain momentum outside China in time.
Finally, with EMUI 10.1 Huawei is expanding the multi-screen collaboration feature available between Huawei smartphones and MateBooks. Now in addition to the screen sharing and file exchange via drag and drop, you can make phone and video calls from your laptop. Opening files doesn't require transferring them to the phone or the laptop anymore – just double click and they will open on whichever device.
Now, let's talk about app stores. The App Gallery's catalog is your primary – the Play Store alternative from Huawei. Some apps are there, while others – aren't.
You can also use the Phone Clone app, which will copy everything from your old phone including all installed apps except for Google's (and some banking apps) on to your new P40 Pro. And that's surely a nice start, but it's not a real deal as you won't get future updates to these apps automatically.
So, your safest bet is to resort to using third-party app stores though. The Amazon App Store should do a fine job – it has plenty of the popular apps – both free and paid, so you'll manage just fine using Amazon's solution.
Or, if you don't need any paid apps, APKPure is another app repository and it works great for free apps and games. APKPure has a Store page with paid apps, too, but those are just links to the Play Store which obviously won't work on the Huawei P40 Pro.
Both Amazon AppStore and APKPure are great for keeping your apps up to date.
We go in greater detail into which apps work and which don't in another dedicated article, so you might want to check it out.
You can also download AppGallery on your current phone to see the app selection and gauge the general user experience.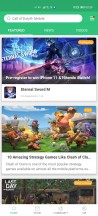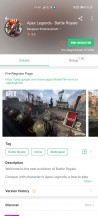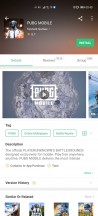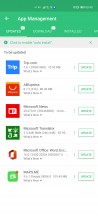 APKPure • APKPure • APKPure • APKPure
There is this alternative app depository called F-Droid. In there you can download NewPipe app, which is a free YouTube client. While YouTube works quite well in the browser and you can even watch 4K videos, NewPipe as an app works better.
There is potentially another alternative. It's a more time-consuming approach that requires some extra tinkering, and it's called the microG Project – the XDA-approved open-source framework for getting apps designed for Google Play Services to run on phones without actual Google Play Services. But this goes beyond the scope of this review.
Finally, there is one very easy way to install Play Store and Play Services via an app. You can read more about this method here. We tried it and the Chat Partner app successfully installed Play Store and Play Services, but we got "Device is not Play Protect certified" error and we were not able to fix it, unfortunately.
Performance and benchmarks
The Huawei P40 Pro runs on the Kirin 990 5G chipset – which has a bit faster processor than the regular non-5G Kirin 990 chip we worked with on the Mate 30 Pro.
The Kirin 990 5G has an octa-core processor with a familiar set of Cortex CPUs – 2xA76 + 2xA76 + 4xA55. In this 5G version of the SoC the maximum clock rates at 2.86GHz, 2.36GHz and 1.95GHz for the three respective clusters. The non-5G lowers the mid-cluster to 2.09GHz and the little one to 1.86GHz.
The GPU is a 16-core Mali-G76 – same for both version of the Kirin 990 chip.
Finally, the neural processing unit (NPU) of the 5G Kirin 990 is made up of two 'big' cores and one 'tiny', whereas the regular Kirin 990's NPU has shelves one 'big' core.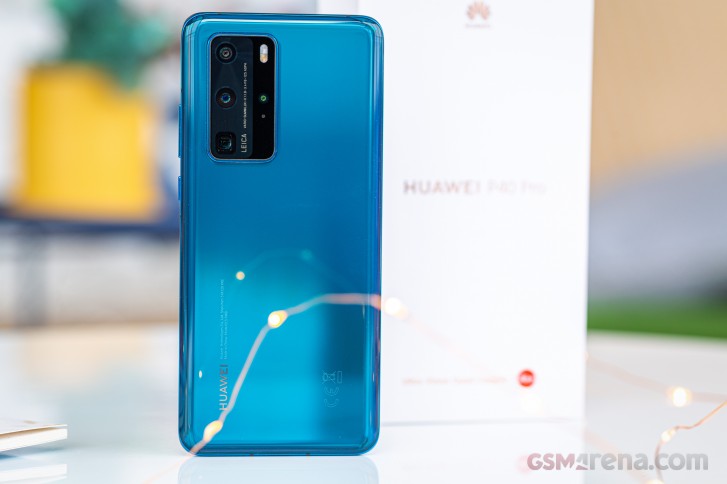 Huawei P40 Pro has a Performance mode where it won't be as conservative about heat and battery consumption and will offer, well, higher performance. We found that when active it leads to a minor GPU boost and had no effect on the CPU.
Single-core CPU results of the P40 Pro in GeekBench are a noticeable step up from the Snapdragon 855 devices though the Exynos's oversized custom cores are still unrivaled in the Android world. However, the iPhones outperform them, as usual though it doesn't really matter, does it?
GeekBench 4.4 (single-core)
Higher is better
GeekBench 5.1 (single-core)
Higher is better
Under multi-core loads the situation changes significantly. The iPhone 11 Pro is still unmatched, but the P40 Pro comes out on top of all but one droid – the Snapdragon 865-powered Oppo Find X2 Pro though the difference between the Huawei and the Oppo is pretty slim.
GeekBench 4.4 (multi-core)
Higher is better
GeekBench 5.1 (multi-core)
Higher is better
The graphic performance is flagship-worthy even if it not chart-topping. For all intents and purposes you will experience top-notch gaming performance on all of the current flagships.
GFX 3.1 Manhattan (onscreen)
Higher is better
GFX 3.1 Car scene (onscreen)
Higher is better
3DMark SSE OpenGL ES 3.1 1440p
Higher is better
3DMark SSE Vulkan 1440p
Higher is better
Finally, the compound AnTuTu 8 test says all phones are fast, but the P40 Pro and its Kirin 990 5G is close to what the Galaxy S20 Ultra (Exynos 990) and the OnePlus 7T Pro (S855) offer. The Snapdragon 865 is the winner here by a large enough margin.
AnTuTu 8
Higher is better
Quite expectedly, the Huawei P40 Pro excels in the synthetic benchmarks and it can be a showoff in real life, too. It is not a chart-topping device, but close. And its thermal management is quite good, so you can keep doing what you are doing throttling-free for a long time.
The 90Hz screen and the fluidness that come with it further enhances the impression of speed and flagship-greatness, so it can't really get better than that.
Next-gen Leica camera
The Huawei P40 Pro features the so-called Ultra Vision Leica Quad Camera, the fancy name behind the improved photography gear on the back. It's quite similar to the P30 Pro in terms of experience – there is a regular wide camera, an ultra-wide snapper, a 5x zoom shooter with periscope lens, and a ToF sensor.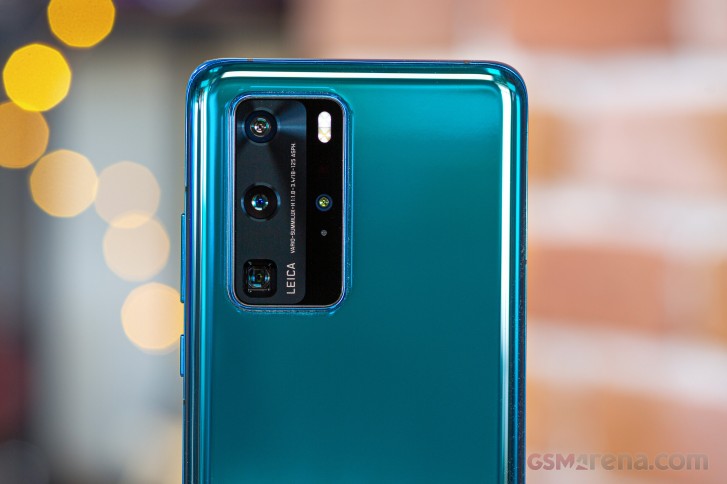 This year, Huawei has worked on improving the overall quality, and each of the three cameras has an updated higher-resolution sensor featuring new color filters and improved lenses.
The main 'Ultra Vision' camera now employs a new large 1/1.28″ 50MP Quad Bayer sensor, with a RYYB filter. The lens has a 23mm equivalent focal length and an f/1.9 aperture and it is stabilized.
The RYYB color filter has the green sub-pixels replaced by yellow ones. Huawei says yellow allows the sensor to collect up to 40% more light than the regular RGGB filters and this change should translate into better image quality in low-light.
By default, this camera outputs 12.5MP shots with a reported focal length of 27mm, which is different compared to the advertised nominal 23mm focal length that the camera is supposed to have. When you switch between 50MP and 12.5MP (default) mode, you can indeed notice that the high-res photos offer wider field-of-view, meaning some cropping is happening before we get those 12-megapixel photos.
The ultra-wide camera is an upgrade compared to the P30 Pro as it was introduced on the Mate 30 Pro. It's a 1/1.54″ 40MP imager with a Quad-Bayer RGGB filter. And because of the Quad-Bayer nature, this snapper outputs 10MP images. And just like on the Mate 30 Pro, the photos are in a classic 3:2 aspect ratio as opposed to the usual 4:3 found in phone cameras. Huawei markets this camera as a Cine camera for its wider aspect ratio.
The telephoto camera has a new sensor – it's a 12MP imager but its not visible on the back, you can see only the end of its periscope lens. The refracted light passes through a set of additional optical elements inside until it reaches the sensor, which sits perpendicular to the phone's plane. The system also provides optical image stabilization.
The periscope lens on the P40 Pro is 125mm, and it has f/3.4 aperture, and it should offer 5x optical zoom (125mm) over the 23mm/27mm main camera. Well, if you do the math, the optical zoom isn't exactly 5x as 125/27 equals 4.63 (if shooting in default mode), but then 125/23 equals 5.43x (for when shooting in high-res mode). Yes, 5x seems to be the average of these two but it's another place where the dual FoV of the main camera brings further confusion.
The fourth and final camera is a ToF one. The ToF (time of flight) camera speeds up the autofocus, and it also improves the subject separation and provides a more convincing background defocusing in portrait mode.
And speaking about portraits, the Huawei P40 Pro also features a multi-spectrum color temperature sensor with AI AWB (white balance) algorithm.
The selfie setup has been upgraded, too, and it now features two cameras and autofocus!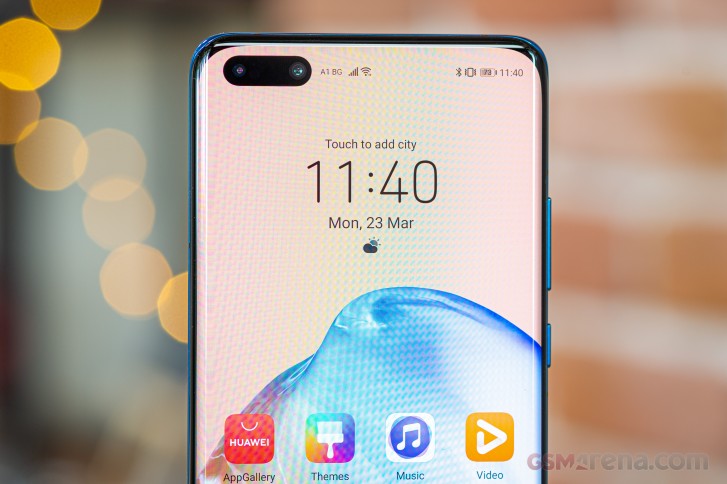 The primary camera uses a 32MP sensor behind an f/2.2 26mm lens. Autofocus is available for the first time – an improvement that is way overdue. Second, comes another ToF camera, which will help for superb bokeh selfies.
Huawei's camera app is pretty functional. You have a Mode selector on the bottom which you can swipe left or right to change modes.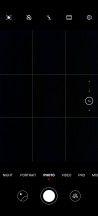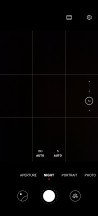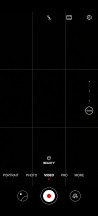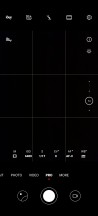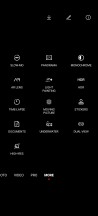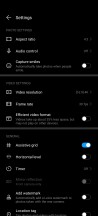 Camera app • Night Mode • Video • Pro mode • All other modes • Settings
Zooming is the other less-than-ideal bit about the P40 Pro's camera UI. While the selector is reasonably accessible with the right thumb when holding the phone in portrait, operating it in landscape requires both hands. So, effectively, it's neither equally well suited to left-hand and right-hand use in portrait, nor is it usable single-handedly in the landscape. None of its competitors has these issues so Huawei can work more on improving the UI.
The camera app is enhanced by Huawei's AI just as before. There is an improved Master AI, which recognizes and tunes settings for up to 1,500 different scenes. There's a toggle in the viewfinder for turning it off and on, so you don't have to go into settings for that. We tend to keep it off, although the recent implementations are nowhere as aggressive as they used to be with phones in the past.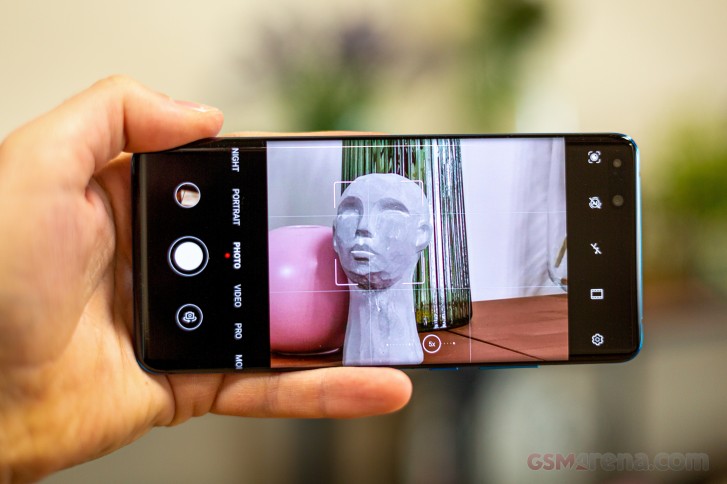 There's a Pro mode too where you can adjust parameters yourself – ISO (50 to 409,600), shutter speed (1/4000s to 30s), exposure compensation (-4 to +4EV in 1/3 stop increments), and white balance (presets and specific light temperature). You can also choose the metering mode (matrix, center-weighted, and spot), and the focus mode (single, continuous, and manual). If the phone thinks you messed up the exposure, an icon will pop up to warn you. Mind you, Pro mode is available on all three cameras, which isn't usually the case with competing phones.
By the way, Pro mode is available for video as well, and the maximum ISO there is 51,200. unfortunately, you can't set a desired shutter speed.
For years now, Huawei phones have had both a Portrait mode and an Aperture mode. In Aperture, you can choose the simulated aperture in the range from f/0.95 to f/16. Post shot, you can change the aperture and the desired focus point within the Gallery.
In Portrait mode, you can enable and disable the background blur, but you can also choose the bokeh shapes – circles, hearts, swirl, or discs. You can also opt for simulated lighting, and you can add some beautification on a scale from 0 to 10.
Image quality
Let's look at some daylight photos. The ones we took with the main camera are saved in 4,096 x 3,072 pixels or 12.5MP and turned out of excellent quality. There is plenty of resolved detail even in areas of high complexity, the dynamic range is stellar, no visible noise, and the colors are lively even if somewhat warmer than reality.
We noticed over-sharpening here and there, but not enough to ruin the overly positive impressions we had.
While Huawei offers a dedicated HDR shooting mode, you will not use it, ever. The camera of the P40 Pro has improved Huawei XD Fusion Engine – the PR name behind the multi-stacking process – and Huawei already has a master's degree in this – the photos always excel in dynamic range.
High-res mode is available, and it shoots in full 50MP with the main camera. It is a debayering process that doesn't take more than second and saves a high-res photo with a bit wider field-of-view than the default 12MP mode.
Unfortunately, the high-res mode can't benefit from all software tricks the default mode uses (like multi-stacking) and the 50MP are soft with uninspiring detail level. If these 50MP shots are downscaled to 12.5MP – they won't exhibit more detail compared to the default photos, but you will get wider FoV.
In our experience, it's not worth shooting in 50MP, but the option is there, so we appreciate it.
If you need wider FoV, then you just switch to the ultrawide camera. Granted, it's not as wide as on many of the P40 Pro competitors – the new iPhones and Galaxies have 13mm lenses, while the P40 Pro offers 18mm.
Still, the 10MP ultrawide photos are simply class leading. The resolved detail is extraordinary, the dynamic range is as impressive, there are no soft corners or wrapped buildings, and the colors are absolutely accurate.
A bit excessive sharpening is still noticeable here and there, but despite that – those are still among the best wide photos we've seen from a smartphone.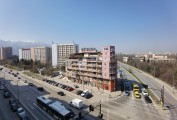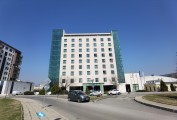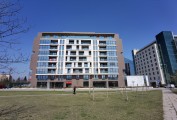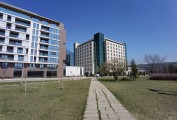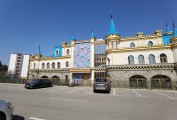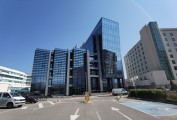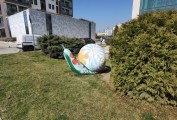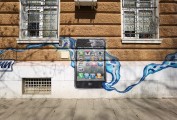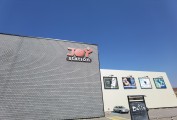 Huawei P40 Pro 10MP ultrawide photos
The 12MP 5x zoomed photos are nothing short of brilliant, too. They are extremely detailed, excel in dynamic range, free of noise, and with the right sharpness.
The colors are punchy though once again a bit warmer than they should be. We'd say Huawei needs to tune its image processing better for when working with sensors with RYYB filters.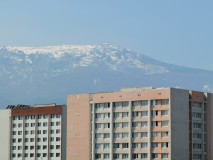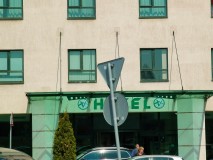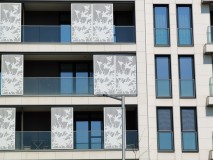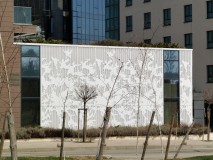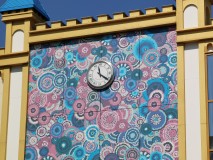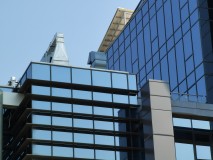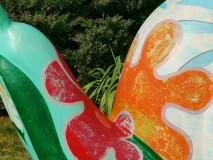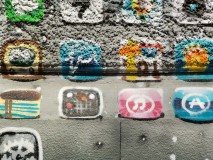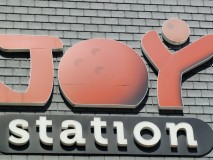 Huawei P40 Pro 12MP telephoto samples (5x)
The so-called hybrid zoom is available beyond 5x up to 50x. The 10x is the next fixed and final step on the zoom slider, you need to pinch for more. We shot some 10x zoomed images – and you can tell those were made by digital zooming only. They do look good on full screen, but at full resolution – we saw nothing hybrid.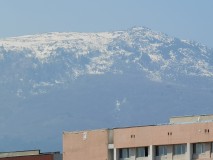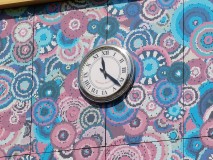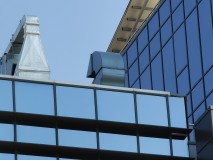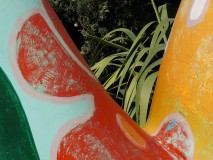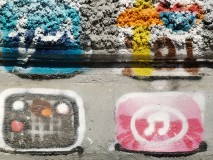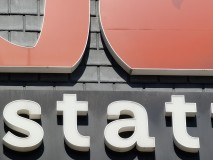 Huawei P40 Pro 12MP photos – 10x hybrid zoom
We chose these two scenes to snap some photos with all fixed zoom levels available on the zoom slider.
And this is a 50x zoom sample, in case you were curious.
We also snapped some close-up shots with the ultrawide camera for you to enjoy. Then last one was taken with the regular snapper and you can clearly see the difference in the color reproduction – the ultrawide shooter got the green leaves just right, the primary – did not.
Let's move to low-light performance.
The photos taken at nighttime with the main camera are flagship-grade. They have great level of detail, balanced exposure, good colors, very low noise, and the perfect sharpness.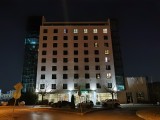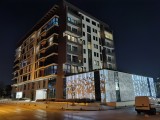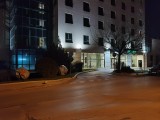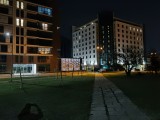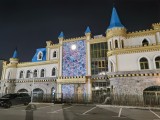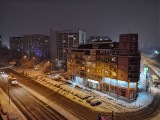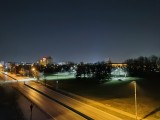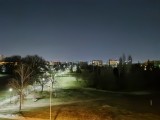 Huawei P40 Pro 12.5MP low-light photos
You may expect Huawei's Night Mode to improve those top-notch samples, but unfortunately, it won't. The Night Mode takes about 4-5 seconds and while it does pop-up a bit more detail in the dark skies and underexposed corners, it comes at a hefty price. The images are very soft, look noisier than the regular snaps, and we are just not sure if the tradeoff in quality is worth it.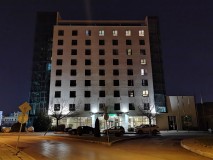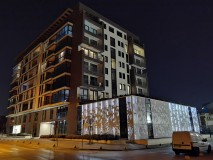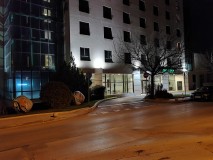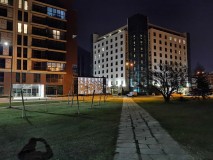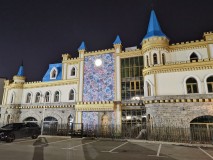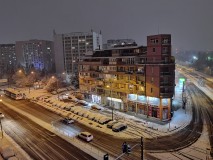 Huawei P40 Pro 12.5MP Night Mode photos
The 10MP snaps from the ultrawide camera are great as the one from the primary snapper – sharp, detailed, noise-free. The colors aren't washed out and we really liked all samples we shot.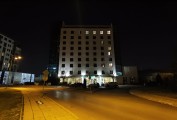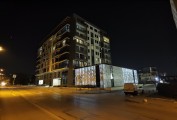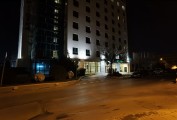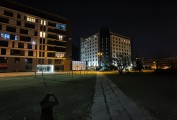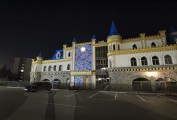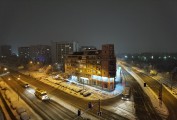 Huawei P40 Pro 10MP ultra-wide low-light photos
Night Mode is available on the ultrawide camera, too, but you should stay away from it. It requires up to 8 seconds of steady holding the phone and then the images will be lacking in detail big time. Some of them are so soft, borderline blurry, and this makes them rather unusable.
For the ultrawide Night shots the tradeoff in quality is even pricier than on the regular camera and best-case scenario – you'd get a bit brighter sky, grass, or pavement. Not worth it.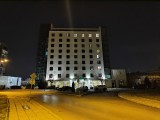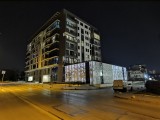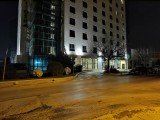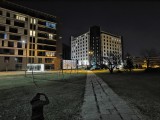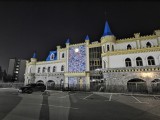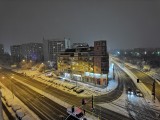 Huawei P40 Pro 10MP ultra-wide Night Mode photos
The phone will automatically decide when to use the 5x zoom camera in low-light. If the app decides it's too dark, it will switch to digital zoom over the main camera and you don't want that. This happens very rare though, say, 1 out of 8 cases.
So, the standard 5x shots are quite usable, they are pretty dark, but it's clearly visible what's at their center, with good detail at that. The colors are a bit off, but it's not that big of an issue.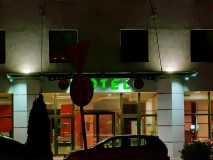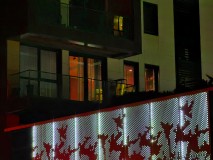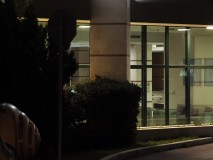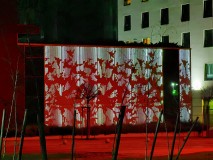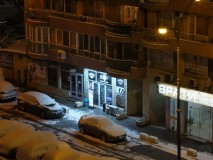 Huawei P40 Pro 12MP 5x zoom low-light photos
The Night Mode works wonders on the telephoto camera. Sure, it takes about 8 seconds and a steady hand, but it brightens up the whole picture, improve the detail, and fixes the colors.
We recommend the Night Mode over the regular mode for zoomed photos, though not too often, as your hand might start aching from the pressure to stay still for a total of 10 seconds.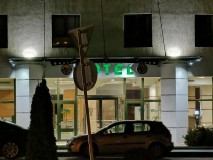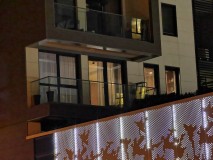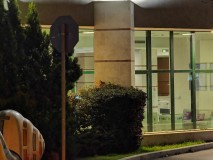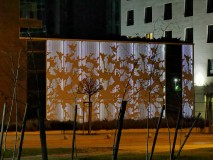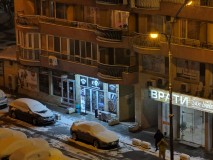 Huawei P40 Pro 12MP 5x zoom Night Mode photos
Now that you're done with the real world samples, head over to our Photo compare tool to see how the Huawei P40 Pro stacks up against other smartphones.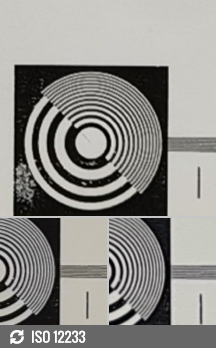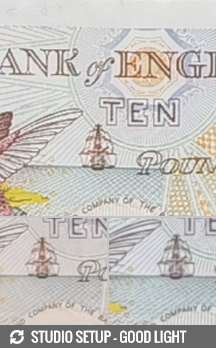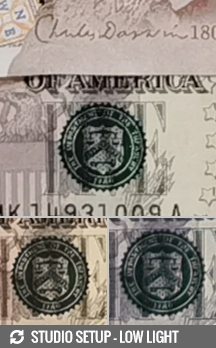 Huawei P40 Pro against the Huawei P30 Pro and the Galaxy S20 Ultra 5G in our Photo compare tool
Portraits and variable aperture
The portraits are shot with the primary camera of the Huawei P40 Pro and you can choose between many different blur effects. The important part is that thanks to the ToF camera, the subject separation is very proficient and then the blur – quite professional-looking.
Indeed, these are among the best portrait shots we've seen to date – with very balanced tone, sharpness, and good transition between person and background.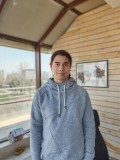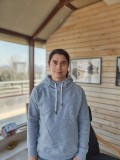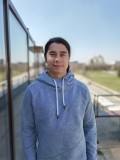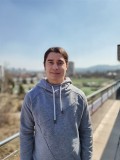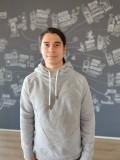 Huawei P40 Pro 12.5MP portraits
We decided to give the P40 Pro variable aperture one very complex object – an orchid flower – and see what happens.
We expected the phone to fail, but the camera got everything right and separated the whole flower from the background, brilliantly at that. We guess we finally reached the level of separation proficiency we've hoped for many years. Nice job, Huawei!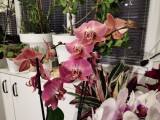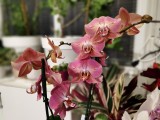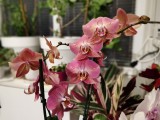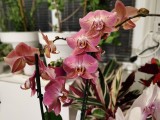 Normal • Simulated f/1.0 • f/2.4 • f/4.0
Selfies
The main selfie camera on Huawei P40 Pro probably has the same 32MP sensor we already met on the P30 Pro and Mate 30 Pro. It is now sitting behind f/2.2 26mm lens and for the first time in a Huawei flagship – autofocus is available. Finally!
The P40 Pro also packs a ToF setup next to the selfie shooter, which should be of massive help in subject separation.
So, the quality of the selfies is very good even if the resolution is too high. We suspect this is a Quad Bayer imager and we would have been plenty satisfied with 8MP snaps, but it is what it is.
There is enough detail in the selfies, while the contrast and colors are excellent. The dynamic range is wide, too, and the color rendition nice. 32MP or 8MP – everyone will be happy with the photos, and thanks to the autofocus – no more sweet spot hunting. Yay!
The ToF setup is indeed helping a lot when shooting portraits and the separation is excellent, one of the best you can squeeze from a selfie snapper. You can use various blur effects for selfies, too, so there are plenty of options to express yourself.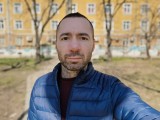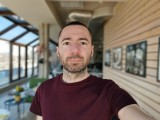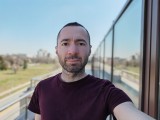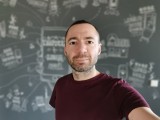 Huawei P40 Pro 32MP selfie portraits
Video recording
The Huawei P40 Pro records video up to 4K at 60fps with both the ultrawide and the regular camera. The telephoto is capped at 30fps in both 4K and 1080p. The P40 Pro has 3 microphones and in addition to the stereo sound capturing (192kbps), the camcorder also supports audio zoom – when you zoom in the video, the audio also intensifies.
You get a choice of the h.264 and h.265 codecs and we stuck with the h.264. 4K60 footage gets a lowly bit rate around 26-27Mbps, while 4K30 is treated to a more generous, yet slightly lower than usual 39-40Mbps – that's right – the 4K30 has some 50% more bits per second than 4K60.
The 1080p videos make slightly more sense, and the numbers are in line with competitors, too – 30fps bit rate is 17Mbps and 60fps gets 30Mbps.
The main camera captures very good video with excellent contrast. 4K footage has very good detail in 30fps but a noticeable drop in sharpness at 60fps. There's virtually no difference between the 1080p modes and 60fps is as sharp as 30fps, both a match for the best in class.
Dynamic range is also nice and wide and colors are mostly accurate, save for a slight reddish tint visible when comparing side by side with other phones or the ultrawide camera (so not really that big of a deal).
The ultrawide camera videos are similar in quality as the ones from the primary shooter. The 4K60 is soft, the 4K30 footage is sharp enough. The contrast and the dynamic range are simply great.
Interestingly, there's a distinct difference in color between the 30fps and 60fps modes, in both resolutions, with the 60fps footage looking warmer and more colorful, and the 30fps clips have a more muted, and potentially more accurate rendition.
The clips from the telephoto camera are pretty great as well. The 4Ks are not as sharp as the others, but sharp enough, while the 1080p excel in detail. The footage is contrasty no matter the resolution and dynamic range is wide. The colors are a bit warmer than they should be.
Finally, the 4K footage from the selfie snapper is quite good, too. The clips aren't that detailed, but still up to the task. The colors and contrast are good, the dynamic range is great in 4K30 but limited in the 4K60 footage.
Huawei's AIS video stabilization, whether it's just EIS for selfies and ultrawide, or EIS+OIS for primary and tele shooters, is available at all times in all modes, including 4K60. There is no toggle to turn the AIS off, which isn't ideal.
The P40 Pro also supports crazy 7680fps slow motion recording at 720p resolution, though from what we gather the actual recording takes place at 1920fps (still mighty impressive) and the in-between frames are extrapolated through the magic of AI. The resulting video is saved at 30fps, with reality slowed down 256 times. Here's an impromptu sample (from the Mate 30 Pro) to give show you what you should expect.
Here's a glimpse of how the Huawei P40 Pro compares to rivals in our Video compare tool. Head over there for the complete comparison.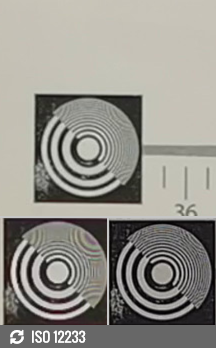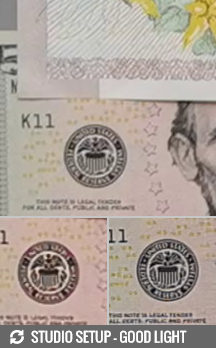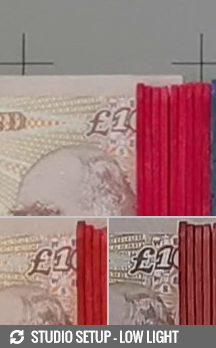 2160p: Huawei P40 Pro against the Huawei P30 Pro and the Galaxy S20 Ultra 5G in our Video compare tool
P40 Pro vs. Galaxy S20 Ultra vs. P30 Pro vs. iPhone 11 Pro Max
We just couldn't miss the opportunity to take Huawei's newest flagship for a photo shootout with some of the best among the flagships and the samples are in.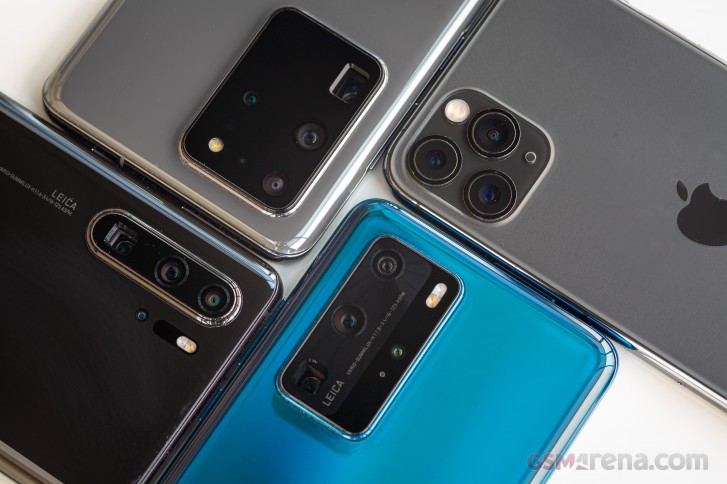 The Huawei P40 Pro shoots excellent daylight photos – those match the detail and the punchy colors on the S20 Ultra images. The P30 Pro and the iPhone 11 Pro pictures show more resolved detail in some photos, while in other scenes, the P40 Pro resolves better the finest details. We'd call this match a tie.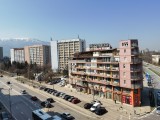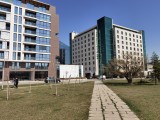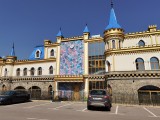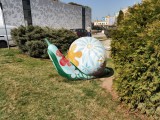 Huawei P40 Pro 12.5MP main camera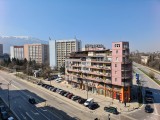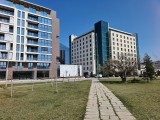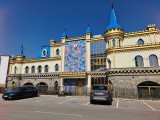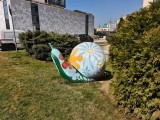 Samsung Galaxy S20 Ultra 12MP main camera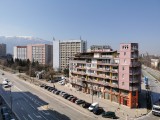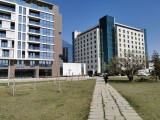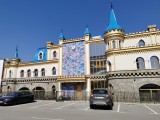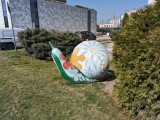 Huawei P30 Pro 10MP main camera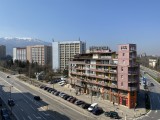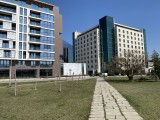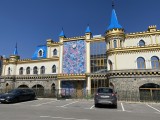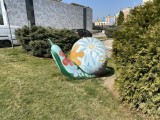 Apple iPhone 11 Pro Max 12MP main camera
Huawei P40 Pro is an absolute winner in terms of quality when it comes to ultrawide photos. Its images are superb in detail, colors, and contrast. If only they were really ultrawide though – their field of view is inferior to the super-wide 13mm shots coming from the Galaxy and the iPhone and you can quickly tell that by just looking at the thumbs below.





Huawei P40 Pro 10MP ultrawide camera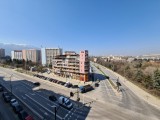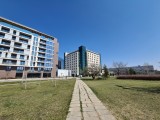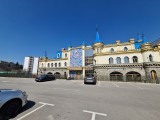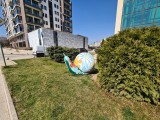 Samsung Galaxy S20 Ultra 12MP ultrawide camera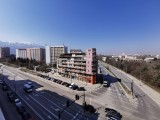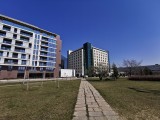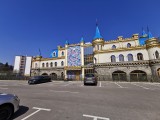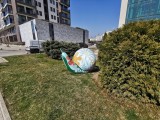 Huawei P30 Pro 20MP ultrawide camera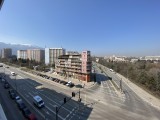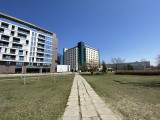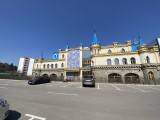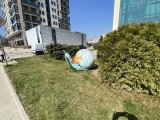 Apple iPhone 11 Pro Max 12MP ultrawide camera
The Huawei P40 Pro is also superior when it comes to 5x zoom. Its tele camera has a 12MP sensor, and hence it easily beats the upscaled photos coming from the 8MP P30 Pro shooter. Same for the Galaxy – the S20 Ultra native zoom is 4x, and the phone digitally zooms and crops to achieve the promised 5x.
The Galaxy and the P30 Pro are more accurate when it comes to color presentation, not that the P40 Pro is bad though.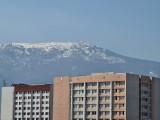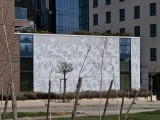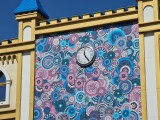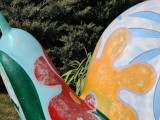 Samsung Galaxy S20 Ultra 12MP – 5x zoom
The Huawei P40 Pro is a good cameraphone at nighttime, but best it is not. Its images are often better than the regular ones from the iPhone 11 Pro Max as it does multi-stacking while we had to disable manually iPhone's Night Mode each time to get these single shots. And even then – iPhone stills had better color reproduction – meaning they lack the reddish tint.
The S20 Ultra is probably the bests of the bunch with the highest level of resolved detail and the brightest of the shots with excellent exposure.
Huawei P30 Pro is also a good shooter, but thanks to the new Fusion Engine the P40 Pro shots have both more light and less noise and fewer (if any) blown highlights.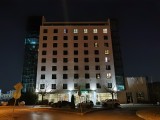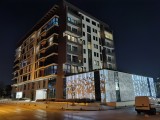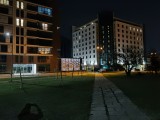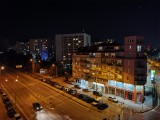 Huawei P40 Pro 12.5MP main camera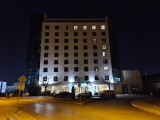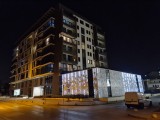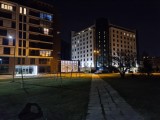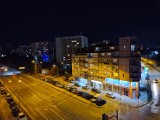 Samsung Galaxy S20 Ultra 12MP main camera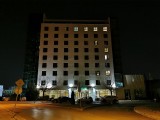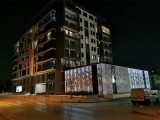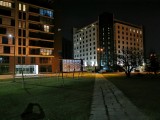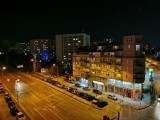 Huawei P30 Pro 10MP main camera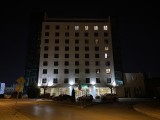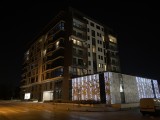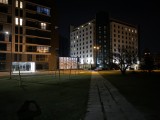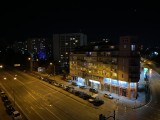 Apple iPhone 11 Pro Max 12MP main camera
The Huawei P40 Pro Night Mode isn't improving on the regular still that much although the shots are a bit brighter but far less detailed. The mode is mostly on par with the iPhone's and the P30's Night Modes.
The Galaxy S20 Ultra once again excels in this shootout with amazingly bright, detailed and lively Night Mode shots and easily outperforms the Huawei's and the iPhone.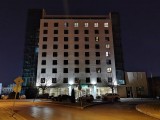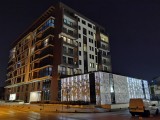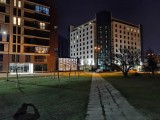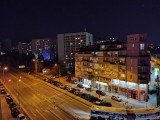 Huawei P40 Pro 12.5MP main camera Night Mode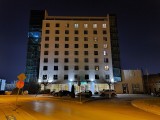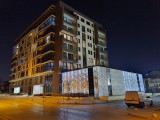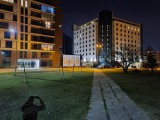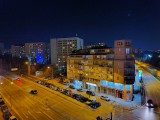 Samsung Galaxy S20 Ultra 12MP main camera Night Mode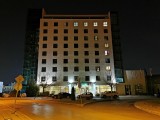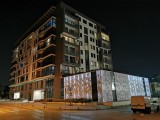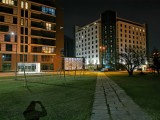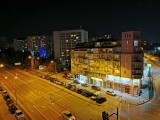 Huawei P30 Pro 10MP main camera Night Mode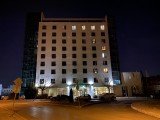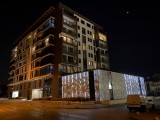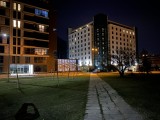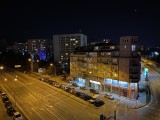 Apple iPhone 11 Pro Max 12MP main camera Night Mode
Without a shadow of a doubt, the Huawei P40 Pro has the best ultrawide camera with sharp, detailed and noise-free photos that also kept a very good color saturation. It is not as wide as the competition, but as far as quality goes – it's miles ahead.




Huawei P40 Pro 10MP ultrawide camera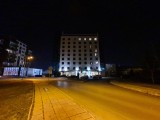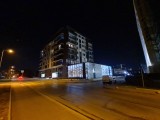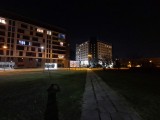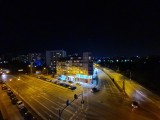 Samsung Galaxy S20 Ultra 12MP ultrawide camera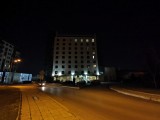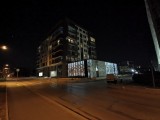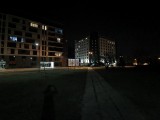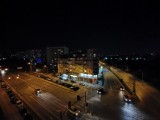 Huawei P30 Pro 20MP ultrawide camera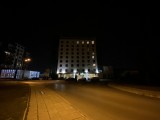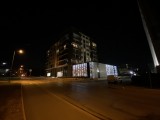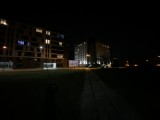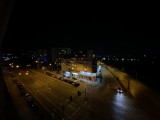 Apple iPhone 11 Pro Max 12MP ultrawide camera
Unfortunately, the P40 Pro's standard photos from the ultrawide camera are so good that it's only downhill from there. And that's the case with the ultrawide Night Mode – it takes 8+ seconds and is pretty much pointless on the P40 Pro – the quality is much worse, and the S20 Ultra and P30 Pro easily beat it.
But even with their Night Modes, the Samsung and the old P30 can't match the quality of the regular ultrawide stills.
The iPhone 11 Pro Max doesn't offer Night Mode for its ultrawide camera. And apologies for missing one of the scenes with the P30 Pro.





Huawei P40 Pro 10MP ultrawide camera Night Mode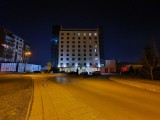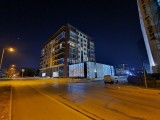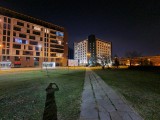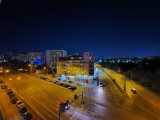 Samsung Galaxy S20 Ultra 12MP ultrawide camera Night Mode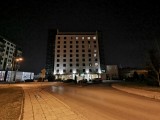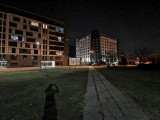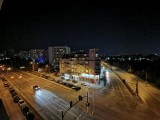 Huawei P30 Pro 20MP ultrawide camera Night Mode
The Huawei P40 Pro has the best 5x zoomed photos at night because its camera shoots in native 12MP and does no upscaling as the S20 Ultra's (native 4x) and the P30 Pro (native 8MP).
There is a noticeable red tint be this is something that will be tuned properly before the phone hits the shelves.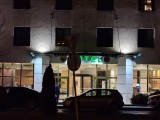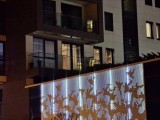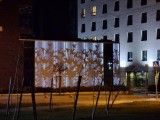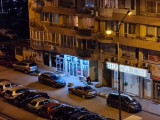 Samsung Galaxy S20 Ultra 12MP – 5x zoom
The Night Mode with these long-range snappers requires one very steady hand, but it's worth it. While the Galaxy S20 Ultra has the brightest shots, the P40 Pro saves the most detailed and sharp. The red tint isn't as visible here.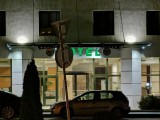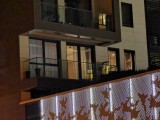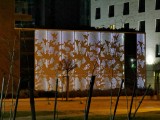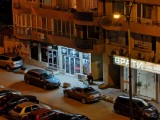 Huawei P40 Pro 12MP – 5x zoom Night Mode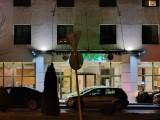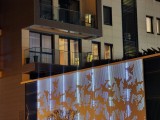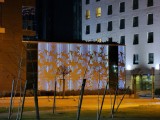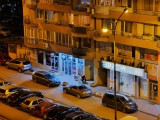 Samsung Galaxy S20 Ultra 12MP – 5x zoom Night Mode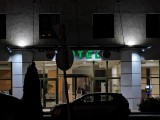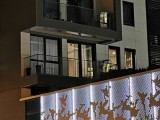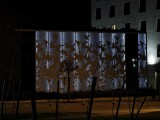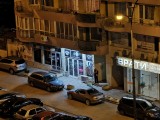 Huawei P30 Pro 12MP – 5x zoom Night Mode
Verdict
We can't say the Huawei P40 Pro is the best camera phone out there, but it is among the best, that's for sure. Its ultrawide camera performance is unmatched, it also excels in the long-range photography even if plagued by the red tinge. We expected the main camera to be a bigger upgrade compared to the P30 Pro's camera, but we aren't disappointed either. We were also surprised to see that the other manufacturers have all caught up with Huawei in regards to their Night modes, so that's a testament at the fast pace this industry moves at.
Wrap-up
If someone thought Huawei was done after Google cut them off – they were wrong. The Mate 30 and the P40 series are here to prove that there is a life after Google, and it's not as bad as you might think initially.
Google's absence is still obvious and while we are pretty sure the Play Services will find their way on to the P40 phones, one way or another, the third-party stores are getting better and stronger, and you are never left without options. The Amazon AppStore and APKPure are perfectly capable to keep most of your apps up to date.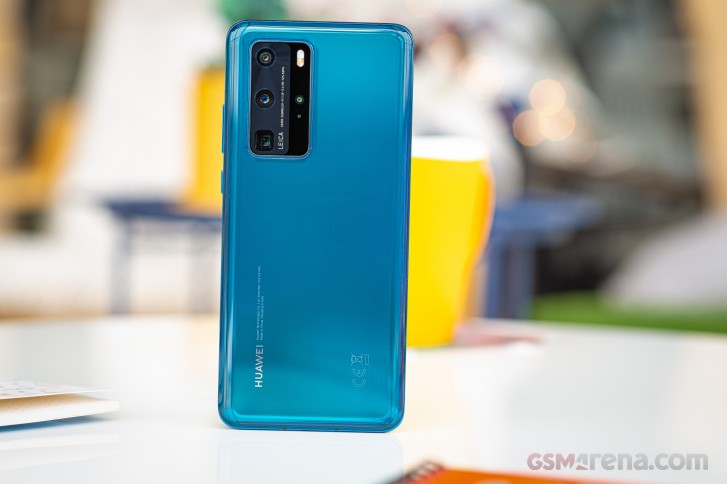 The hardware package is mightily impressive though, and this is where everyone should be focused, not on the Google stuff. The P40 Pro has an excellent screen with top-notch resolution and high refresh rate. The new Kirin 990 5G is one of the best on the market, with solid thermal properties.
But the new Leica camera on both ends are the attention grabbers. Huawei has kept the same arrangement on the back as on the P30 Pro, but has improved the sensors, lenses, and the processing algorithms. New video options are available, too. Meanwhile, at the front, the selfie shooter has finally gotten an autofocus, while with the help of the ToF camera you will get some amazing portrait shots.
With the right price position, stimuli (the pre-orders get FreeBuds 3), and most important – marketing push – the Huawei P40 Pro has every chance of not only surviving but beating the odds.
The competition
Well, we can't start this chapter without mentioning one great alternative sold at nearly half the P40 Pro price. Huawei P30 Pro figure was slashed numerous times post the USA vs. Huawei war, and it is currently a hot deal pretty much everywhere. The previous generation flagship offers a similar experience in terms of performance and camera (read great). Sure, you will lose the 90Hz refresh rate and the top-notch ultrawide camera, but the P30 Pro almost €500 cheaper! Oh, and it has all Google services on board and already runs on Android 10 + EMUI 10.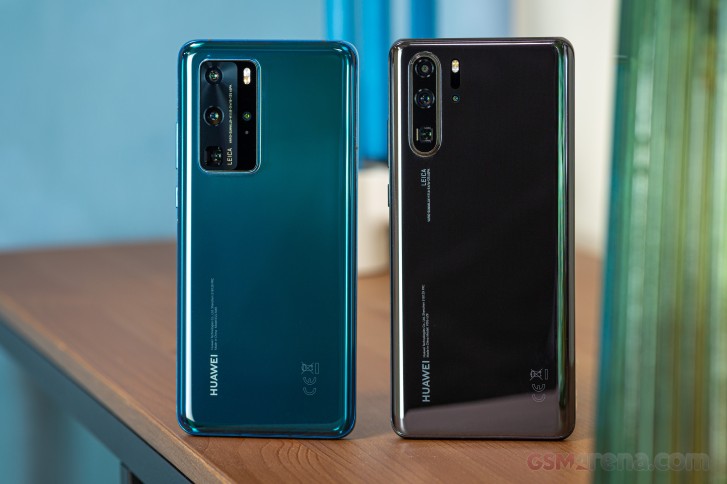 Huawei P40 Pro next to the P30 Pro
The Galaxy S20+ is your next option. Its price is a close match to the P40 Pro, but it's Dynamic AMOLED is larger and of higher resolution. The screen also supports HDR10+, and you can enjoy high-definition content from all popular streaming services thanks to the entirety of Google's package. The camera experience and quality are similar even if the optical zoom has a shorter range. The Galaxy also offers stereo speakers, 120Hz refresh rate instead of 90Hz, 8K video capturing, and a bit faster performance.
Oppo Find X2 is an interesting alternative to consider if available in your region. It's a great flagship ran by the Snapdragon 865 and uses a 6.7″ 120Hz Quad HD AMOLED screen. It has high-res wide and ultrawide snappers and a 13MP cam witha periscope lens for 5x optical zoom. Stereo speakers, Android 10, and 65W fast charging complete the flagship bundle.
Finally, the Xiaomi Mi 10 Pro will be launching soon, and it will be at least €300 cheaper than the Huawei. We know it will have a 6.67″ 90Hz AMOLED of 1080p resolution and the newest Snapdragon 865 chip. The quad-camera at the back is quite peculiar – a 108MP primary, a 20MP ultrawide, an 8MP telephoto for 10x hybrid zoom, and a 12MP portrait camera with 2x optical zoom. 8K capturing is available on its main camera, stereo speaker setup is present, Android 10 as well, and the Mi 10 supports 50W fast charging.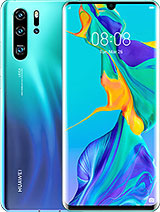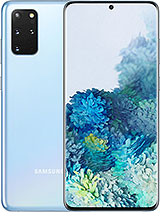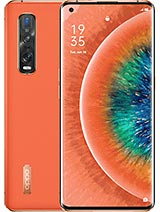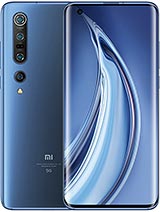 Huawei P30 Pro • Samsung Galaxy S20+ • Oppo Find X2 Pro • Xiaomi Mi 10 Pro 5G
The verdict
The Huawei P40 Pro is the right kind of a flagship – it offers cutting-edge tech across the board. The OLED screen is both high-resolution and with a high refresh rate, the performance is brilliant and yet won't suffer from throttling from heating, and then the battery is relatively large and very fast to recharge.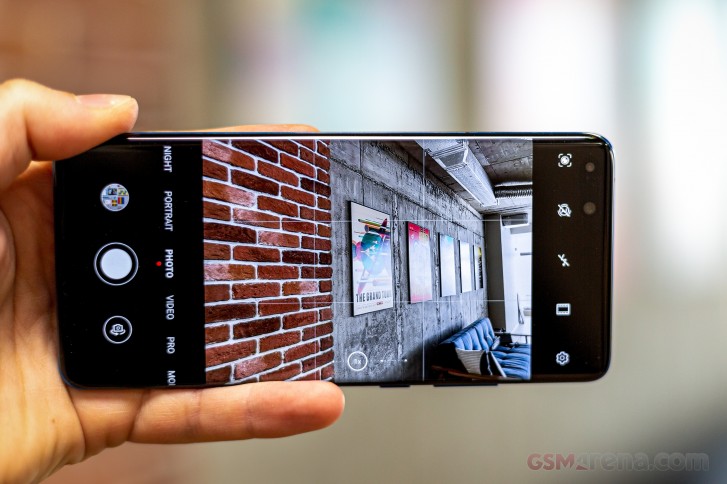 Photography is what the P40 Pro is all about, and the phone excels in that even if there were some hiccups along the way. We are sure Huawei will fix the minor issue we observed with an update, and we already like its plans for EMUI's expansion.
Read Also: Huawei P40/P40 Pro/P40 Pro+ Officially Announced Over 799 Euros
The fate of the brands lies in its supporters, but we are seeing no reason why you should stay away from it. The P40 Pro is an excellent flagship specimen worth experiencing, be it with Google functions or not.
Pros
Eye-catchy curved design, water-proof body.
Excellent high-res 90Hz OLED screen.
Flagship-grade sustained performance.
Dependable battery life, blazing-fast charging.
Excellent photo quality day and night across all cameras.
Top-notch selfies.
Great video quality at 30fps across the board, excellent stabilization.
All-round connectivity, though no 3.5mm jack
Cons
Only takes NV cards for memory expansion.
No Google Mobile Services means some apps and games will never work no matter what.
The photo Night Mode is not a big leap forward.
4K60 videos are disappointing.
Source: gsmarena